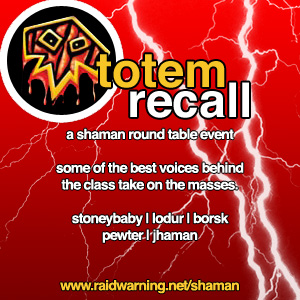 In case you haven't heard yet, there is a Shaman Round Table on the horizon. On July 13th the folks over at Raid Warning will be hosting the latest in their series of round table discussions. You may also remember that back in February Thespius and Matticus were featured on Power Word: Fail the priest round table. I am very happy to inform you all that I have been asked to join in on this installment of their series Totem Recall.
The previous class discussions have been great successes and if you want to listen follow the link above.
I'm really looking forward to this. There is a great lineup and there is sure to be a fantastic series of topics for discussion. I can't wait!
Want to be involved? Submit your questions for Totem Recall on Raid Warning's Epic Advice thread and vote for your favorites to be answered on the show!
Here's the line up for this round table
Joe "Lodur" Perez of  WoW.com and World of Matticus
Rich "Stoneybaby" Maloy of WoW.com and Big Crits
Borsk of Borsked
Jhaman of Castaclysm
Pewter of MentalShaman
Binkenstein of Elitist Jerks
Masanbol of Elitist Jerks
Make sure to swing on by and give it a listen. Should be a great time!
Image courtesy of Raid Warning