Here's the thing about an event like Blizzcon – there is SO MUCH going on that it overwhelms your senses and strips you of your faculties. You may have all the best intentions of blogging about every little detail, but what you end up coming away with is a jumble of emotions mixed with images…. and ringing in your ears if you stayed for Ozzy.
If you want coverage of Cataclysm, specific panels, or any other information, you can find the info on the official site, WoW.com, and even You Tube. If you want to hear about this Troll's experience, keep reading!
Day 1 – p.m.
My plane lands, we get our gear, and walk out the airport. My boyfriend and I hadn't really come up with a solid plan for getting to the hotel, but there in the California afternoon sun was a gigantic bus with DISNEY on the side. We looked at each other, giggled, and got on board. One of the neatest things about iPhones is the built-in GPS, so we figured out that we could get dropped off at the Disney hotel, walk past the convention center to pick up our goodie bags and badges, then head on to our real hotel.
This worked out rather well, since the line for badges had mostly dissipated by the time we got there. Here's what it looked like: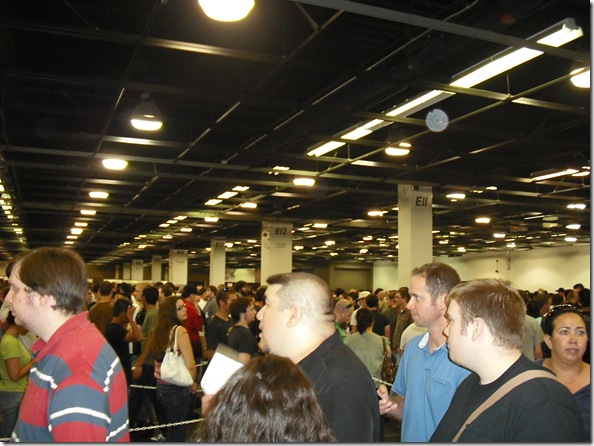 That took about an hour – they kept it moving as fast as possible. Meanwhile, I was on the phone nonstop, texting Lodur, Matticus, and my Guildmates. Turns out my GM was in line behind me, and I got to meet him in person for the first time, along with a couple of my other guildies!
The guild went out for dinner afterwards – we had about 10 people all together. In typical fashion, I was the only Lady. That's one thing about Blizzcon – while women are the fastest growing gaming demographic, there was still never a line for the Ladies' room. Which is a nice change.
Lodur and I were staying at the same hotel, so after dinner I got to meet him in person for the first time, along with a few of his guildies. Stories were swapped, drinks were had, and I have no idea what time I went to sleep.
Luv,
Wyn