This week in The Herald.
An overview of pet battles
Why Rapture needs to retire
How to make Symbiosis better
Mistweaver Monk FAQ and Guide
Last weekend, I was over at
Fan Expo Vancouver
(think of it as Vancouver's Comic Con). Not a bad event. I believe it was one of the first ones that was being organized and they were using it to test it out for future comic-ish cons. They hit capacity multiple times actually. Those who wanted to buy tickets the day of were denied shortly after lunch hour and the line was cut off. I heard both days saw around 12000+ people go in and out. Came home with this: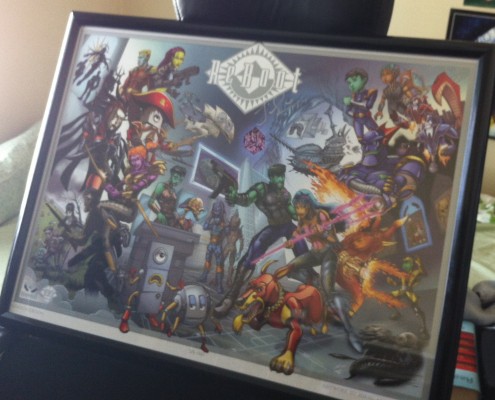 I miss that show.
Also, Kevin Sorbo is freakin' tall. He was sitting next to Worf. I wonder who would win in a hand to hand fight. Hercules may be a demigod, but Worf is Klingon. Saw Marina Sirtis (Counselor Troi and might I add she aged really well). I bumped fists with Tony Amendola (Master Bra'tac from Stargate).
Hope we get a bigger and better one next year with a larger gaming presence, as well.
::
This post has a video demonstration of several pet battles from start to finish along with a preview of the new pets pane interface.
::
Derevka lays out his thoughts on Rapture for Discipline and why he believes that mechanic must go. In a word, I agree with his sentiments.
::
Jasyla offers her opinion about the related spells of Symbiosis and offers up some alternative solutions instead.
::
EGTactics has an up-to-date guide on the basics of playing the Mistweaver Monk. It covers aspects like suggested talents, ability usage, and gear.
::
Are Good Healers Born or Created? 
Personally, my belief is that good healers can be created. But great healers are "born". You can teach the technical skills to a player but you can't really instill the burning desire to keep everyone alive.