After speaking with Joe about the supposed DPS spells we need to use to help sustain our mana, I couldn't help but notice the Surge of Light UI additions. If your Smite casts happen to activate a Surge of Light, this is what appears on your screen: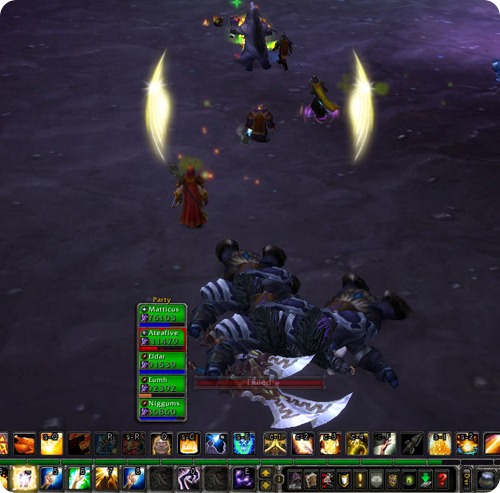 In the middle of my screen, you can see the two wings appear on either side of my Priest. This indicates Surge of Light is up. Not only that, if you look on the bottom left, my Flash Heal is now glowing. Its these little UI enhancements and improvements which should help make it a little easier on everyone especially for players who are just getting started as Priests. You get a visual cue that you have the option of a free heal and where it is on your bars. Traditionally, most Priests relied on addons such as Power Auras or some other addon which gave them visual cues when Surge of Light was up. Other stubborn Priests (like me) simply kept a close eye on buff bars to see when it was up.
Personally, I think this is a nice touch for the Priests.