*Warning: Some quest spoilers here for players working their way through Twilight Highlands*
There's these two Alliance quests that I want to point out. I think every player should do them at least once. Well, maybe every player that's new to the game or isn't as knowledgeable about healing classes. For the longest time, healers have tried to educate and teach players about healing circles. Turns out there are a couple of quests in the game that help players familiarize themselves with select healing mechanics.
Look at the Wild, Wild, Wildhammer Wedding quest. In it, you're busy fending off Twilight Hammer cultists as they try to crash this wedding. Russell Brower, that hip lute (I think) playing dwarf, sets up a wedding hymn! And there's in game prompts telling you to stand in it so that you regenerate.
The graphic looks exactly like Holy Word: Sanctuary.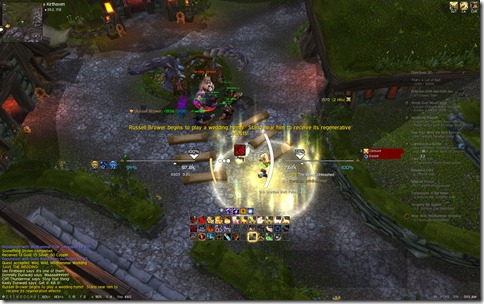 In an expansion where players have been conditioned to stand out of fires and void zones, they're standing out of friendly stuff as well. I wish this quest would've been offered earlier on during the zone. More players would have been exposed to it. Hopefully, that exposure could then help recondition them to recognize the graphic and actually use it.
Actually, let's take it a step further.
Why not have every healing circle as part of a quest? Standing in glowing circles should be reinforced at every level or zone. Maybe an Earthen Ring Shaman is dropping Healing Rain in Vashj'ir in some multi-NPC quest. Design another quest where a Druid representing the Guardians of Hyjal are using Efflorescence. Or set up another boss killing quest where that boss has an ability that nukes a blast radius. Have an NPC discipline priest who conjures up a barrier that a priest should stand under. I don't know. I think it would help and reduce healer headaches in the dungeon finder.
Speaking of cool quests, there's another one that's priest related. Doing it Like a Dunwald involves players killing Darunga in a phased out part of the zone. You're working with the Dunwald brothers and taking down an Ettin. One of the Dunwalds, I can't remember which one, sets up a regenerative keg where players can click on it and they gain a HoT.
Now gee, what spell exists in the game where players can click on it to gain a HoT?
Yeah. That's right. Lightwell. I wouldn't mind seeing additional introductory quests in future content patches where players need to click something to gain a positive buff. Have that object look like a Lightwell.
My other idea to encourage players to click Lightwell is to create a glyph which turns a Lightwell into a Keg. Would players be more inclined to click Kegwell?
Side note: In case you were wondering, Russell Brower is a composer who composed music for World of Warcraft, Diablo 3 and Starcraft 2. More importantly, he did sounds for Animaniacs (Man I loved that show when I was kid. "United States, Canada, Mexico, Panama, Haiti, Jamaica, Peru…". No other song helped me destroy my friends when we tried to name as many countries as possible [We were young. Starcraft didn't exist then and we were tired of playing with pogs]).
P.S. Curious about the new UI I'm testing out? It's called Real UI. You can check out my evaluation of this addon compilation on No Stock UI.