We just downed heroic Atramedes last night on 25 man. We're now 5/13.
So, the in-game recruitment interface.
I love it.
It's about time something like this was added. Not every guild can afford its own online presence or has the desire to monitor constant forum posts. Instead of listing how serious a guild is (hardcore or casual), there are options allowing leaders to indicate guild interests. Weekdays and weekends could be a little more specific, but it'll do the job for now. Same thing with class roles even though it is extremely basic. I like how they subtly allowed leaders to show whether the guild is a leveling or an endgame guild. It doesn't say it per se, but come on. For me, I left the Any Level radio button checked. I might have rerolls wandering around and exploring guilds or something.
I do have some suggestions to make.
From the guild leader perspective
I would like to see more screen real estate for additional options. Weekday and weekend availability is nice, but we all know people take their Friday nights off to go watch movies like Fast 5 (Anyone see it yet? Worth it?). Add 7 checkboxes for each day of the week showing what days the guild does stuff on.
Why stop there? How about some buttons for times like:
Red eye early morning
Morning
Afternoon
Evening
Late night
Approximate time of day would need to be based on server time. At least prospects will have an idea of whether or not they can commit to the rough time.
See the class roles? Setting tank, healer and damage is great for queuing for instances. But we need a little more precision when it comes to class selection at least. Throw class and spec icons. If not, consider adding in classes so we can choose to recruit elusive classes that players seem to be ditching these days like Rogues and Shamans.
I'd also like the ability to set permissions on who can view the Requests tab. I cant seem to find it in the permissions settings anywhere.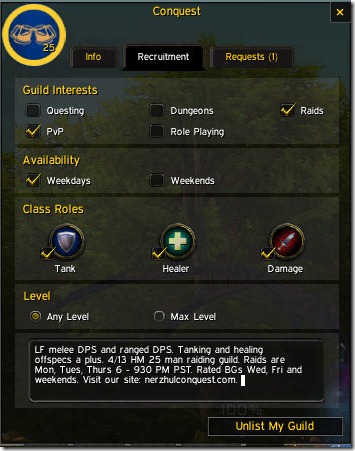 From the applicant's perspective
The upside to this is that if you're in a guild, you can't browse other guilds. That means you need to be an unguilded, free agent.
Here's the thing.
I imagine most players would want to retain benefits of their guild or at least enjoy some social interaction before their time to leave. I'm sure that if a player is leaving their guild, they would have informed their leadership anyway (At least, I hope). If I were looking to change guilds, I know I'd want to minimize downtime between current guild and guild-to-be.
Okay, I guess I'll be more realistic. If I were a player unsatisfied in a guild, I'd love to at least explore what guild options are available to me. Being able to browse all the guilds that are looking while guilded would be nice to have. Perhaps remove the "Apply" button or render it unclickable to minimize any errors.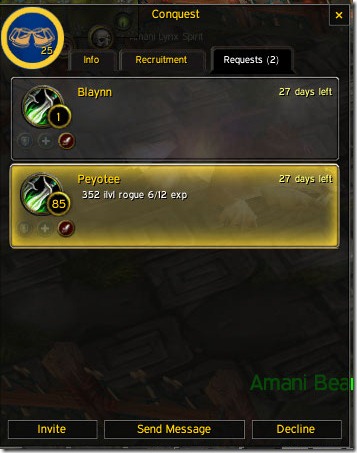 Besides, as a GM, I'd love to see what my competition colleagues are looking for. It's also amazing how many "blank" applications are out there. A good number of players who wanted to join Conquest don't even fill out the description so I have to guess based on their role and level. Usually what I do in cases where I think the player has serious interest is I'll decline their application but I'll fire them an in-game mail asking them to formally apply on the Conquest site anyway.
How about you guys? What do you think of the in-game recruiting interface and how would you improve it further?