Welcome to Grobbulus! You''ll run into him right after Patchwerk in the Abomination wing. Once the room's been cleared out, get ready to grab Grobby!
Abilities
He puts a disease on players at random called Mutating Injection. It's very important that it does not get dispelled! There's a boss in Blood Furnace (the big floating Eye) that drops poison clouds all around the room. This boss also drops poison clouds. If the disease on you gets dispelled or if it wears off, then you drop a poison cloud.
Slime Spray is another ability of his which hits for a decent sized amount. Any players who are affected will spawn slimes. DPS needs to kill slimes when they spawn!
Poison Cloud: Deals a moderate amount of damage
So how do you handle it?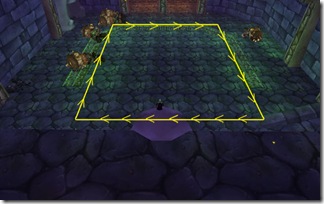 The Process
Tell your tank to pull Grobby in a clockwise direction. Don't move him too fast. You don't want to rush him around because it takes time for poison clouds to wear off.
Your DPS and healers will be standing in the middle and shooting outwards. Melee players will be standing behind Grobby as he is being tanked. Don't forget to kill Slimes as they spawn!
If you get hit with a Mutating Injection, run and stay behind Grobbulus until it wears off. The main idea here is to keep the poison clouds on the exterior of the room thereby leaving the middle area relatively clean. Once diseased players are in a safe position, then all you need to do is Cleanse or Dispel them. The debuff will wear off and a poison cloud will expand where they were standing. Make sure they run back after the debuff wears off.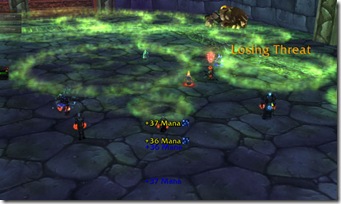 Healing
I suggest using a 2 healer on tank, 1 on raid setup. Grobbulus does not hit really hard and the damage should be manageable. The concern here is the amount of players absorbing AoE damage from Poison clouds. As long as they are alert and aware of where they are relative to the clouds, they should have no major issues.
Other Notes
Grobbulus' abilities are Nature based. Consider using Aspect of the Wild or other Nature Resistance abilities (Totems?). I do not know how effective using the resist is but it could help the raid stay alive longer than normal and buy more time. I haven't had a chance to test Nature Resist. But it isn't a necessity.