Who let the dogs out? No, really. Gluth is this really large dog that has been pieced together with flesh from various beasts (or people). He is the third boss you have to tackle in the Construct Quarter.
Abilities
Mortal Wound: Reduces healing taken by 10%. Stackable debuff!
Decimate Flesh: Consumes everything in the room for approximately 90% of their health
Infected Wound: Increases the Physical damage taken by an enemy by 100 for 1 minute
Enrages: Hits slightly harder than normal unless he gets a Tranq Shot
There's no trash needed to clear to him. The path is empty from the moment you kill Grobbulus. There's a green tube (pipe) that you need to go through and when you exit it, you will be thrown into combat right away and engage Gluth. Stay on the right side as you walk through the pipe.
So here's the gimmick with the fight. You'll need to have two tanks on Gluth the whole time. That Mortal Wound ability I told you about gets periodically applied to him. Ideally, our tanks will taunt off each other once the debuff reaches 3 or 4.
Not only that, there will be zombies (Zombie Chow) that stream in from time to time and they have around 500000 health. Those need to be kited. There's no way the raid group can kill all of them right away.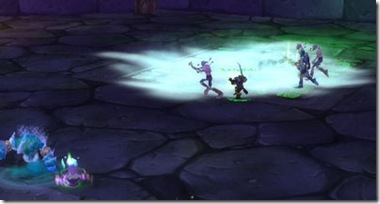 Kiting Methods
Using a mage to run around while casting Frost Nova and Ice Lance to grab aggro
Having a Hunter with Freezing Traps and Explosive shots grab aggro
There are other ways, but those are what I have witnessed so far
One more thing
Gluth does a Decimate Flesh ability that you see in the opening shot of this post. Everyone's health including the Zombies drop down to 10%. That's your cue to get the entire raid to focus fire the Zombies and kill them. Otherwise if you don't kill them quick enough, they will run towards Gluth and he will consume them and gain a lot of health back. And you do not want Gluth to get healed.
Pro tip: A few seconds before Decimate hits, have your kiter run to the opposite side of the room where Gluth is to buy your raid a few extra seconds of DPS time.
Healing
I'm strongly advocating a 2 single target healer on the tanks and 1 AoE healer on the kiter approach. Tanks will be taking a bit of a beating. Normal hits on Pate for about 4500. Enrage hits on Plate for about 5500+.
Tank healers have to focus and listen for the calls. Make sure the tanks are communicating so that tank healers know when they're switching.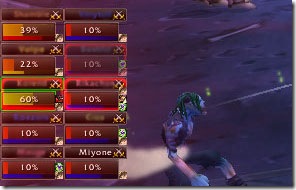 The AoE healer will be keeping an eye on the kiter. It is inevitable that the kiter takes a few glancing blows here and there. Every time a player gets hit by Zombie Chow, they suffer a disease called Infected Wound which cannot be cleansed. It wears off after a minute. The disease causes players to take increased physical damage by 100 every time it is applied. I once had 20 applications of the debuff and believe me, it wasn't fun at all.
After he hits Decimate Flesh, the raid's health drops straight down to 10%. AoE heals are big at this point. Have the tank healers get the tank health back to 80% or higher and spam the rest of the raid. Don't forget, during this portion of the fight, that zombies don't aggro onto anything. They're going straight for Gluth.
Priests
Circle of Healing a few times to get everyone out of the red. Finish off with direct heals or Prayer of Healing to get more heal strength down. In fact, consider using Holy Nova while you're near players and are also in range of the Zombies. Every bit of DPS helps.
And lastly, here's an action shot of a Gnome Mage being chased by some hungry Zombies. I wonder if he gets away…