Just a quick one this lovely Friday morning. I'm showcasing a piece of commissioned art by Paint whiz Lagniappe. I requested a new Conquest logo with fuzzy kittehs and bunnehs, and boy did he deliver. I like to think the Broccoli is me, accompanied by my non-combat pet, Pookybuttons the tabby cat. I also love how the Moonkin is petting the bunny. All is peaceful in the animal kingdom–double Vanquisher must have dropped on every boss this week.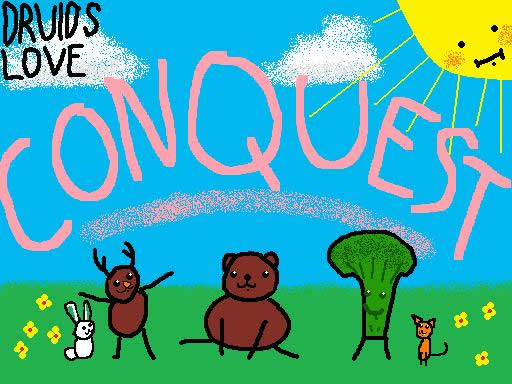 Here's the full masterpiece. I have my fingers crossed that Matt will pick this as our new logo…or at least print it up on a T-shirt. A broccoli stalk can dream, I suppose?
Do broccoli dream of electric ranch dressing?
Who knows? What I do know is that I have a definite love for all things silly.