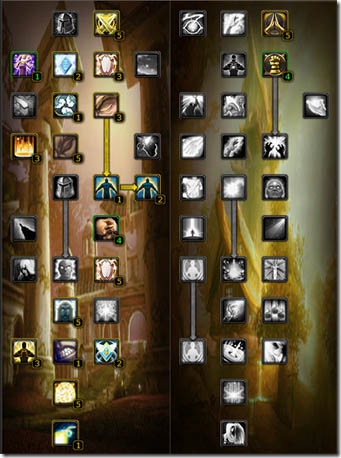 Note: If you wish to avoid reading about beta related information, feel free to navigate away or mark this post as read.
Click the picture on the left to navigate to the Wrath WoW Head Priest talent page with my choices on it
You might be thinking to yourself upon closer inspection that this isn't a leveling spec.
You're right! It's not!
My colleagues at WoW Insider asked me if I wanted to help them heal a run tonight in Utgarde Keep and I responded with an immediate yes!
As a result, I've picked my talents out as best I could with a strong emphasis towards the Discipline tree to find out how it plays. I'm contemplating liveblogging the run later on tonight when I go in there (it'll be around 10 PM PST).
The Group
Warrior
Cat Druid
Hunter
Paladin
Priest
Notice that I intentionally skimped out on Power Infusion because out of the 5 classes, I'm the only caster that would be able to utilize it. I don't think I'll really need it at all and none of the other players will use it anyway.
Remember, this is not a leveling build. I just picked this set of talents out to try out Disc healing out of the box as a 70.
Thoughts?