My fellow Blog Azeroth colleagues (altoholicmom and Stop) have seen fit to offer World of Matticus one of the most prestigious awards in blogging today! I'll be accepting it on behalf of the entire team. Blogging is not easy but all of us put in an effort to make it look as polished as possible. The design uses the Matticus standards of blue. It's the revolution music theme I purchased from Brian Gardner which I've customized.
The conditions of acceptance are as follows:
When accepting this auspicious award, you must write a post bragging about it, including the name of the misguided soul who thinks you deserve such acclaim, and link back to the said person so everyone knows she/he is real.
Choose a minimum of seven (7) blogs that you find brilliant in content or design. Or improvise by including bloggers who have no idea who you are because you dont have seven friends. Show the seven random victims names and links and leave a harassing comment informing them that they were prized with Honest Weblog. Well, theres no prize, but they can keep the nifty icon.
List at least ten (10) honest things about yourself. Then pass it on!
Now, it's my turn to nominate and award seven other blogs around the blogosphere which is going to be difficult. But I will try!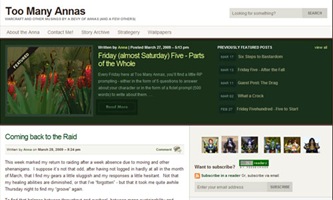 Too Many Annas: For outstanding blogging. Her ability to represent the three Rs (Resto Shaman, Raiding, and RPing) are unparalleled. Her site design is the latest evolution in Informational Shamanistics. She doesn't know it yet, but shes up for an honorary healing degree from the Matticus school of Raiding.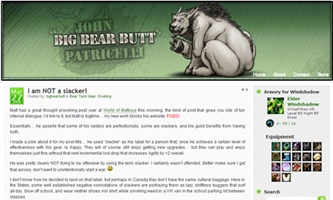 Big Bear Butt: This bear has managed to outwrite and outproduce World of Matticus in terms of sheer quantity (and quality!). The award goes to Master Patricelli! 😉 Renowned for writing thought provoking, eyebrow raising, and mind warping posts, Big Bear Butt has entertained and educated readers since the summer of 2007 (right around when World of Matticus formed)!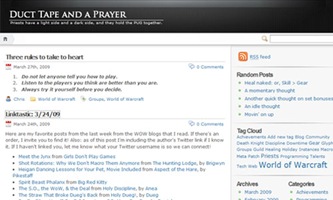 Duct Tape and a Prayer: For most promising healing blog formed in 2009, I nominate @etherjammer. He's come to the conclusion that haste is indeed better than crit going forward into 3.1 for Discipline Priests. His weekly link posts are an excellent source of reading material if you're looking to kill time somewhere. Keep an eye on the jammer. I suspect his presence will be around for a while.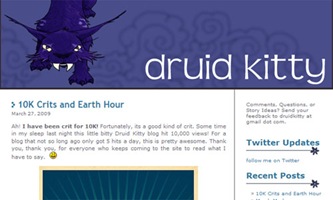 Druid Kitty: Having been read 10000 times is no easy feat. Many aspiring bloggers give up before they even reach that mark. A big congratulations are in order for @superkathoid for reaching the 10000 mark. Before you realize it, you will break the 100000 mark. But keep writing. Don't give up. Never look back.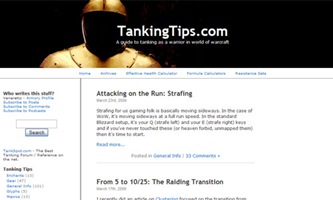 Tanking Tips: Without tanks, there would be no need for healers (since we'd die too quick to be effective). Veneretio has been a beacon to countless protection Warriors both novice and veteran alike. His tenacity for tanking is matched by his ability to engage discussion. For this, I nominate @veneretio for outstanding blogging and service to the pin cushions of WoW!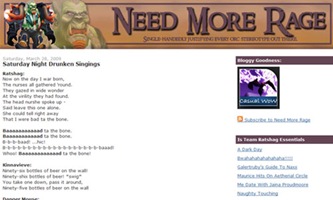 Need More Rage: Ratshag has provided countless hours of laughs and tears with his posts. What goes on in his head when he writes? I would love to know that myself, actually. As such, it is only fitting that Ratters earn the title of "Most Wackiest WoW Blogger"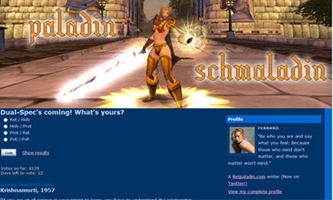 Paladin Schmaladin: This blogger popped up on my radar a few months ago. She is a contributor to the Retpaladin.com community. Some of you might know her as Ferraro. I don't know of very many Retribution Paladin bloggers myself. But I did learn a thing or two from her for my Paladin.
Honorary mentions:
World of Warcraft, eh? – I had the pleasure of meeting Cadistra two weeks ago (and she's cool to boot). It's a great WoW comic and it should be added to everyone's RSS. Totally blew my mind how much time and effort is involved.
And now to the facts portion. As a twist, I made an extra stipulation that none be WoW related.
Facts about Matt
Favourite beverage is coffee. Usually grabbed from Starbucks for the sake of convenience. No cream, no sugar. I like my coffee black.
Brain teasers and logic puzzles are what I do when I need a break from anything WoW related.
I still have yet to watch Princess Bride.
I let out large sighs of exasperation when I'm not happy about something. (My guild can attest to this)
The only genre of music I don't like to listen to is country.
I once took Salsa and Waltz lessons (but call me the dancing Dwarf, and I will smite you).
Dogs scare me. A dog came up to me on my bike when I was younger and caused me to fall off.
When skating, the only method by which I can stop is crashing into the boards.
I worked as a carnie for three years. Yeah, I was the guy that let your kids into the bouncy castle. However, I was not the guy who cleaned up after your kid if he peed in it (I made someone else do it).
I have the world's messiest handwriting. There are some days where I can't even read myself. That's why I purchased my Macbook for school
Facts about Wynthea:
My birth was announced by a fortune cookie which proclaimed "There will soon be an addition to your family" to my mother. She was pregnant, but didn't know it yet.
I once auditioned for The Real World because it was the season to be set in Paris, even though I've never seen the show.
I don't own a television. (well, i do, but it's only hooked up to my DVD player…)
When I'm stressed, I count to twenty in my head… in French.
It's taken some time, but I've finally learned to control the facial twitch that happens when I introduce myself, and people respond: "oh, like the little mermaid?"
I can bake excessively delicious cookies, muffins, and brownies.
My birthday is New Year's Eve. It is AWESOME.
I got my nose pierced today.
My guild makes fun of me because I am notoriously un-funny. They've learned to give me pity laughs in vent though, which is why I'll never leave them.
I know all the words, and can rap along to, this Outkast track.
Facts about Lodur
I'm addicted to all things steam punk. I'm just fascinated by the artwork and gadgetry and overall style
I obsessively watch hockey and soccer. (GO MANCHESTER UNITED!)
I have been referred to at work as "Super Mario" since Halloween of 2007 when I showed up to work in overalls, red shirt, over-sized cartoon gloves and an embroidered red hat with the "M" on it. Helps that I'm short, round and mostly Italian.
I'm a classically trained singer (not kidding) and performed in the traveling show of Joseph and the Amazing Technicolor Dreamcoat in the early 90's as part of the children choir
I've named all of my guitars
I'm named after one of The Beatles.
The demo for the song "To Be With You" by Mister Big was recorded in my childhood home
I'm addicted to Tim Horton's coffee… no seriously they put one across the street from my home and I have to buy at least one cup a day.
My favorite T-Shirt has the words "Cereal Killer" on it with a skull and crossbones with two spoons as the crossbones. Yes, I love the movie hackers.
I'm an Apple fan boy. I love me some Mac!
Facts about Sydera
I am a big reader. I always was, for my whole life. I was that kid who really did read the encyclopedia–it was a set of 1966 World Books. My favorite books of all time are Don Quijote, Pride and Prejudice, Bleak House, and Jane Eyre. However, I read mostly sci-fi and fantasy in my spare time now.
I am a southerner, but I don't have a southern accent. However, ask me sometime to imitate my mother or grandmother–guaranteed to have you in stitches!
I hate flying. A lot. Have you ever tried to take a cat to the vet? Getting me on a plane is a lot like that, except I have to do it to myself.
I am a big-time procrastinator. In fact, I totally could have written this list yesterday, but I didn't.
I love vampires. I like to read about them, watch movies about them, and debate other vampire fans about vampire culture. I almost started a vampire blog, but then WoM came along! I'm currently working on my own vampire novel about an 18-year old girl vampire. I think it's sexist that it's mostly men who get to be vampires in all the stories. My favorite contemporary vampire authors are Anne Rice and Tanya Huff. I just read Bram Stoker's Dracula this year and I really loved it. And just for the record, I read the Twilight books and enjoyed them, but I wouldn't say I'm a fan. Vampires have no business being outside in the daylight. I always did love vampires, even as a kid–I blame the Bunnicula books. And, of course, my favorite Sesame Street character was Count Von Count, the numerically-gifted vampire puppet.
I scare really easily. If you walk around my house with your hands in "claw" formation while making "monster" noises, you'll definitely get me to scream. Yes, even if you didn't surprise me. A part of me will suspect you've actually turned into a zombie.
I am a cat person. I like dogs too, but if there were a box of free kittens and a box of free puppies, guess which box I'd be putting in my car? Baby kittehs for sure.
I am obsessed with matching pajama sets–you know, the sporty cute kind that my undergrads often wear to class. I mostly buy them at Target, but I look for them everywhere.  My favorites are the holiday PJs–especially the purple ones with skulls that I got for Halloween last year. I am currently upset that I have not been able to find any Easter pajamas. My ideal would be yellow PJs with a chick on the t-shirt and an egg pattern like polka dots on the pants. I always raid in cute PJs.
I am a wine snob. I prefer Sonoma to Napa, dry to sweet, and red to white, except where a French-style grenache rosé is involved. My very favorite wine is the Hawkes Cabernet from the Alexander Valley. You've never lived unless you've had a good northern California Cab with a juicy steak. Despite my love of wine, my go-to raiding drink this year has been hot chocolate with Baileys. I just moved to a really cold climate!
Strawberries are the best fruit, and asparagus is the best vegetable. Sushi makes the tastiest dinner, but crème brulée is the most proper dessert. Ham is superior to turkey, and fried chicken outclasses fried fish. If I have to eat potatoes, they'd better be french fried or mashed, but I'd rather not eat them at all.
Monday's a big day. Stay tuned…
Image courtesy of CanadianSc.