When patch 3.0 hits live servers, every endgame raider is going to have to make some difficult choices. We will go from being the max-level, king of the jungle, top of the talent tree whiz kids we are right to being unfinished, not done yet, 10 levels behind. These comments are based on the current beta build, and of course all talents are subject to change at this point.
The raiding tree will have a particularly difficult set of decisions to make. Our prospective talents pull us in two directions, much as they did in early BC, as resto druid healers split into Treeform and Dreamstate varieties. This time, the choice is a bit more subtle, and it focuses on a few key talents. To read a great rundown of the new druid talents and their implications for raid and group healing, mosey on over to Resto4Life. Phaelia has your numbers amply covered! This article attempts to use those numbers to create meaningful builds not for the endgame at 80, but the soon-to-be middlegame of 70 raiding. I don't know about you, dear readers, but my guild is not finished raiding yet! We're going to have to learn to operate within the new framework, and quickly. We will be raiding the very day the patch comes out, and I want to be ready.
Prospective Build #1: Wild Growth (8/0/53)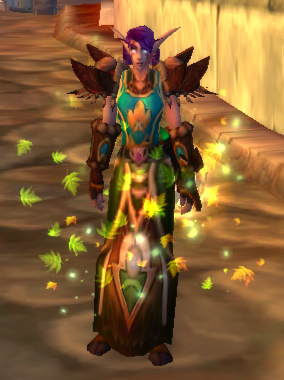 The main goal of this build is to take just enough Restoration talents to reach the talent formerly known as Flourish, Wild Growth. Along the way, the build picks up a few fun new bells and whistles, which should make for an interesting night of raiding while I try them out.
Fun Features:
Wild Growth is an AoE spell that heals 5 party members for 1085 over 6 seconds at max rank, and it promises to be simply tons of fun. As you might guess, rank 2, which we'll have at 70, is a bit less impressive. Sure, it's been hit with the wrong side of the nerf bat, but I am hoping for a favorable re-balancing before the patch goes live. It might require learning a new healing style, but it's animation is beautiful (shiny, pretty cascades of light-filled leaves surround the targets), and it will probably be quite useful in the current end-game content. I am going to make one of my CoH priest buddies switch with me on Bloodboil and let me heal bloodboil groups.
I'll also be psyched to get my grubby little branches on a fully-talented Living Seed. It doesn't quite have the wheeeeeeee! factor of a brand-new AoE heal, but I'm hoping for a zippy animation and a sound that either beats or equals the zing of of the priest's frisbee (Prayer of Mending).
This build also includes Omen of Clarity, which has shaped up to be a neat little effect (for once!) in its current incarnation.
Passive Benefits:
While Natural Shapeshifter seems a lackluster talent now that I won't ever be shifting out of tree mid-fight, it does lead to a lovely bonus in Master Shapeshifter.
In the Balance tree, I'm able to reach two resto-friendly talents, namely Genesis and Moonglow. That means stronger HoTs and cheaper Regrowths!
Spell Rotation:
This build relies heavily on HoTs and assumes that I will be doing tank healing for the most part. The Regrowth-related talents have excellent synergy with each other, and I am expecting to proc Living Seeds like crazy on my favorite tank. In order to get a further benefit from Regrowth, I am hoping that the Glyph of Regrowth will be available to me. Said favorite tank has promised to level up inscription ASAP, since he's a flower picker already.
And yes, Lifebloom will continue to be my bread-and-butter spell with this build, even though its effectiveness has now been nerfed all to hell. It is my hope that Genesis will cushion the reduction to Lifebloom's coefficient, but I will reserve judgement on that point until I see it in action. I logged on the beta to drop myself off things, and the nerf looks pretty significant, but I would still like to see it in raid conditions.
As for Wild Growth, I think I will drop it on the melee area from time to time, but unless I take someone else's habitual job, I won't use it all the time. I'm a tank healer, after all.
Drawbacks:
One would expect this build to pick up a fully talented Gift of the Earthmother. I'm on the fence about this one. Phaelia thinks it will be useless, and she's probably right. I certainly think with the amount of unavoidable spell haste on Wrath of the Lich King gear that it will be totally redundant in its current form, but I'm holding out the hope that it will be useful at 70, since I have practically no spell haste in my regular set.
Prospective Build #2: Nature's Splendor (14/0/47)
Fun Features:
The capstone feature of the Nature's Splendor build is the increased duration of Lifebloom. This build would allow a druid to maintain triple stacks of Lifebloom while also casting Healing Touch. I think we'll still be triple-stacking Lifebloom even though we won't get as much out of it as we did pre-3.0. The usefulness of Healing Touch, however, remains in question–it's never been our best spell. Nature's Splendor increases Lifebloom's duration to an incredible 10 seconds, which gives me time to sneak in Healing Touch. If I have the Healing Touch Glyph, the spell turns into something more like a Flash Heal, which sounds like loads of fun to play around with. However, its efficiency concerns me, and a druid who uses HT often, glyph or no glyph, will be putting to the test the devs' current complaint that druids won't be able to run out of mana.
Passive Benefits:
The other standout feature of this build is Nature's Grace, which has excellent synergy with the constantly-critting Regrowth. If I time it right, the Nature's Grace proc could always be used with Healing Touch.
Spell Rotation:
Guess what, I'll still be tank healing! Except now, a Healing Touch or glyped Healing Touch will be in the rotation for tanks. It will be a little bit like getting Nourish before the fact. Lifebloom stacks will be in effect, and Regrowth will be used for its yummy crits. Now, if it's possible to use both the Regrowth glyph and the Healing Touch glyph, this build looks a lot more interesting.
Drawbacks:
The Nature's Splendor build feels very unfinished at 70. The balance talents I'd need are clear, but I had a heck of a time deciding what to take in Resto beyond the basics. Without the last 10 talents, I can't get full synergy. I contemplated taking Empowered Touch, for example, and I might have with more points. I think if druids are really going to use Healing Touch instead of having it sit on their bars a-wasting, they are going to want to go for a full complement of related talents. That's not really possible at 70. Darnit, and I really wanted to make use of that 4 piece T6 bonus (which….I don't have yet).
I hate spreading myself that thin in the Restoration tree to get Nature's Splendor. I've been 0/0/61 for a long while now (ever since Bonkers took Insect Swarm). With fourteen points in Balance, at least one very good talent will be missing from my resto setup, and that bugs me. I like to get the full effect of a healing build!
Conclusions:
I'm going to start out with Wild Growth. And please, keep that weed killer away from me!