I am not happy.
To be frank, I'm really annoyed.
There's a player I know who is distraught with another player. They're both able to work together, but that's not the issue at hand. The behavior of one player irritates the other.
There are two problems. Those of you who are or who have been in guilds will recognize it. I'll give you a quick excerpt of the conversation in a second. For the first time, I face palmed.
"What were the problems?" I asked.

"I can't tell you." He responded.

"How am I supposed to fix the problems if I don't know what they are?" I questioned.

"I don't know, man." He squawked.

"Can you at least tell me who they are so I can try to talk to them and get to the bottom of it?" I urged.

"No because I don't want to rat them out or they'll be mad at me." He wailed.

"So let me get this straight. There's people in our guild who are slightly disgruntled. You can't tell me why or who because you don't want to rat them out." I observed.

"Yes." He croaked.

Note: I was reading a PDF with over 300 ways to say "said" and decided to try some to break into the habit.
Can you see how toxic this type of behavior can be?
I don't even know who the other dissatisfied players are because he doesn't want to tattle. This isn't grade school. We're supposed to be civilized and mature people with the ability to talk to each other.
If they can't trust their GM, then maybe they should shop around until they find a guild and a GM that can be trusted.
Now I know everyone has a tolerance meter. Some players are able to put up with and deal with a lot more crap than other people. It's not something that can be taught. As a side note, GMs must have an amazingly high tolerance meter.
Here's a look at what I deem the cycle of drama: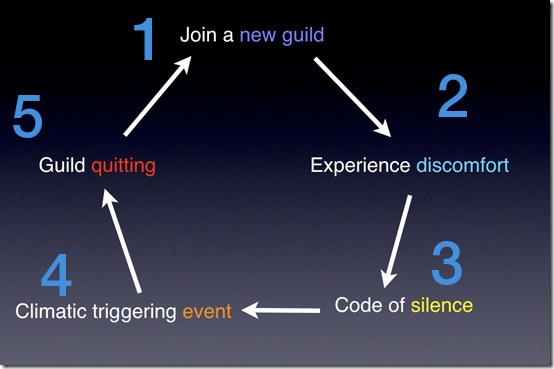 Join a new guild. This is the stage where low drama player has just entered a new guild after being promised an environment where they can flourish and share goals with their new found guild mates. Things are generally good as a new guild functions like a breath of fresh of air.
Experience discomfort. Now that the new player has grown familiar with the players and atmosphere, they start noticing some aspects of the guild that they don't like. Perhaps they find a certain player coming on too strong. Perhaps the style of looting isn't done how they prefer. Maybe the leadership isn't all that great. Whatever it is, the problem is significant enough to disturb them.
Code of silence. The new player vows to not let themselves be the cause of any dramatic events. They will try their best to deal with it and move on. Meanwhile, the rest of the leadership proceeds onward with the belief that everything is okay. This is the really critical stage and it could span days, weeks or even months.
Climatic triggering event. Enough is enough. It has gone too far. The guild member has reached breaking point. After a long period of time trying to keep it in, the guild member discovers he has reached the limit of his tolerance. An even triggers and months of frustration pour out possibly causing serious damage to the integrity of the guild.
Guild quitting. Once step 4 happens, step 5 happens pretty soon thereafter. The player has made a mess of themselves and an embarrassment. They're so unhappy that leaving and starting fresh somewhere is the only logical course of action remaining.
And then the cycle starts a new.
It's time to break the cycle. Veer away from step 3 and talk to someone. Otherwise you know what will happen next.
Next, there are two statements here that irritate me to no end.
"I don't want to rock the boat."
Before I became a GM, I agreed with this sentiment. I didn't want to cause any problems. I didn't want to force anyone's hand. Confrontation is something I didn't want to deal with. I'll just grit my teeth and deal with it as best as I can. The GM's already got a ton of Talbuk dung to deal with. No sense in giving him any more.
And I'm sure most of you would agree. Your GM's are harried as they struggle to go from raid to raid trying to make sure everything's running as smooth as possible.
Until one day, you (the exasperated player) decided that you have had enough. You are done putting up with the kind of crap that you have had to endure. You set your alarm for 2 AM before going to bed. Hours later, you wake up to the sound of Wham's Wake Me Up Before You Go Go, log into WoW, and quietly leave the guild while everyone is asleep.
"I'm not the only one who feels this way."
That just expands the problem even more. Now it's a trust issue. Loyalties here are torn between the players who said something in confidence versus the GM trying to salvage and remedy the situation.
Everyone wants to be a rebel. No one seems to like or respect authority. At the end of the day, the GM's just a regular player as well. It's a shame. It really is. It's a thankless job that's hard enough already without having players that conspire by passively resisting. It's making management difficult.
I wish people weren't as shy. I wish they'd be willing to stand up and grow a spine. Normal and sane GM's aren't going to kick you out or feed you to the sharks if you rock the boat. The ones that do aren't the ones you want to play with anyway.
Snap out of it!
I am begging you. If you have a problem with someone or something, talk to your GM. They are the last line of defense. If there's nothing you can do, then you are free to go. But until you as a respectable person can take that step to explore every possible option to resolve your differences, then you're going to continue to be handcuffed. The cycle will repeat itself. Contrary to popular belief, we don't have the capabilities of the NSA or the FBI. We can't wire tap your computer. We're not psychics.
If your GM doesn't know what the problem is, he can't solve it. By with holding it now, it's going to be made even more catastrophic later. If you respect your GM that much, then you should go have a talk with them in private. If a resolution can't be reached, at least you tried.
But the fact remains, it begins with the guild members. Once the guild member speaks up, the ball can get rolling. Someone has to open a dialog. Too often, silence is interpreted as nothing wrong. But it could also mean nothing is right.
Whatever happens, happens. It's the actions and choices that people make which matter. Sometimes there really is nothing that can be done. I accept and I understand that. What kills me is when no one ever tries to cooperate.
It's disappointing.