WoW.com did a little post comparing the Alliance to the Horde Shaman tier 9 pieces, I'm sure you've seen it by now, if not it's worth the read.
The tier 9 stats are good so far, but I really think they dropped the ball on looks. Lets take a quick peak at them
Alliance: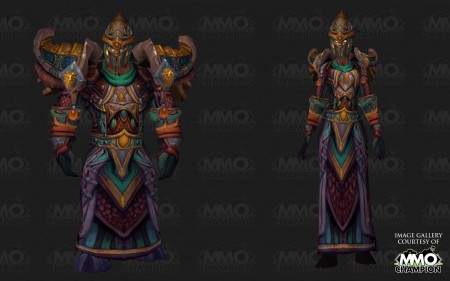 Horde: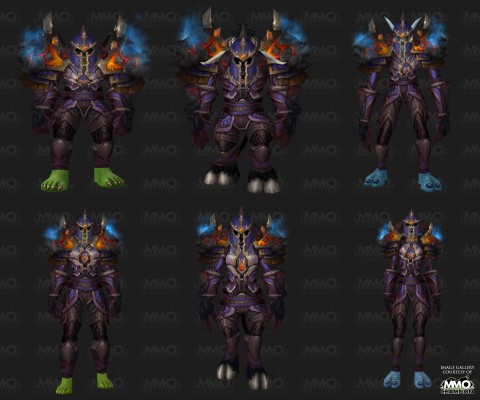 Just look at them, it's nothing to write home about. The alliance one though just makes me very sad. If you go back to my old post Why Play a Shaman? I posted a picture of a bunch of  the tier sets up to Tier 7, add in Tier 8 and we've had a hell of a good run with some nice looking gear. (with in my opinion one exception, but more on that in a second). I was excited for the new tier set and was interested to see how they would do the faction specific gear. Let me share my opinion with you.
Alliance Set
I'll be honest. I don't like it. I'm kind of ok with the helm, but the rest is just…. blah! Looking at the set it reminds me of another odd set we had back in the day, the Stormcaller's Garb (also known as Tier 2.5).
Here's a picture of it: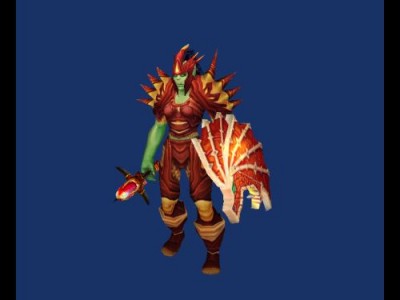 In a time where Tier 2 and Tier 3 sets were around, this set just seemed out of place. Thats how I feel with Nobundo's set for alliance. The set lacks anything distinctly "Shaman", honestly to me it feels more like a Druid set look-wise.
Where is the power of the elements? Tier 1, 2, 3, 5, 6, 7 and 8 all have very obvious signs of elemental power coursing through it. Tier 4 was a little subtle with its touches of elemental power but it was still there (the water orb effect of the shoulders). So you have Stormcaller's Garb and Nobundo's gear which both lack anything that is distinctly "Shaman".  Give me lightning or caged fire! Something! Anything that says "The spirits of the elements flow through me"! The color scheme as well is something that is lacking. Teal, orange and Purples? blech! Give me a color scheme that makes sense! Also, my faction symbol is a lion's head roaring, why not make it more prevalent then two small icons on the shoulders?
Horde Set
Horde fared much better then alliance here. Very clear Elemental influence, Color scheme is solid with Blues and Reds worked into the metal coloring. Faction symbol dead center on chest (just like the old Tier 2 set!). The set might be very similar to the Cataclysm Set (Tier 5) but I'll forgive them that because it looks pretty cool still. My only gripe is it doesn't seem horde enough. Now I'm sure I'll get flamed for saying this, but to me the height of Shaman gear was Tier 2. That set was amazing, particularly going to talk about the shoulders. Carved Wolf faces with lightning crackling over them? Not only did that scream shaman it screamed Horde (at least to me) I would have liked to have seen some animalistic reference in there. All in all though, much better then the alliance set.
I think this was an ok effort, but I find myself lacking any motivation to wear the pieces. Sure I'll get them and use them during raids, but I think I might have to resurrect a "vanity" set for general use when not raiding.
How about you? What do you think of the sets? What do you like or don't like about them? What would you like to see?
Until next time,

Images courtesy of mmo-champion