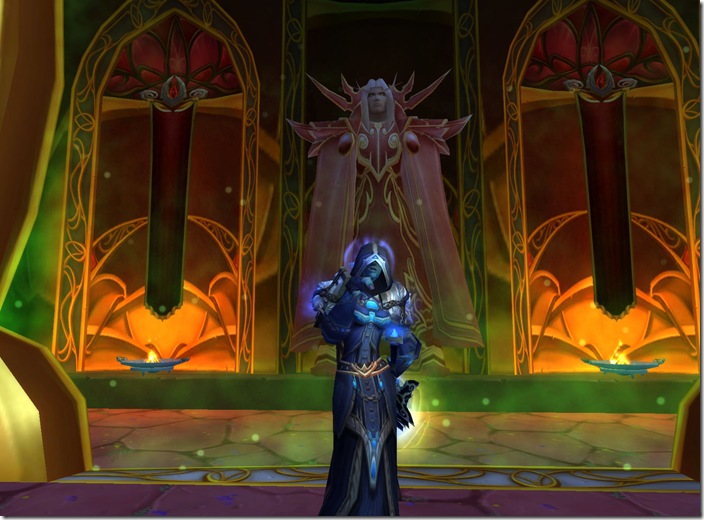 My beloved guild is currently 2/6 Sunwell. Although our guild is medium-sized, our raiding core is pretty small. In fact, we have no spares for any of our classes. This is becoming problematic as we work on our progression through Sunwell – vacations, changing class schedules, work promotions, etc… all seem to interfere with raid time. And frequently, if two people can't make it we're left without an optimal set up. It's frustrating to bring in alts or undergeared casual members for progression nights.
So what, you ask?
Well… my fearless Raid leader asked me to help with recruiting. So here I am, recruiting with the best resource I have: You!!
Although some classes are spread more thinly than others, we are looking for strong, full-time players of every class. We figure we have a spot for at least one of each, in a regular rotation.
A little about my guild:
We are <Them>, of Nazjatar-PvP-US. We raid M-Th, 6-10 Pacific Time. (Sundays are flexible.)
We are 2/6 Sunwell, with Felmyst making excellent progress.
We are relatively hardcore, but certainly know how to have a good time.
We use a modified Loot council, with DKP for tie breakers.
Thrall is our homeboy.
A little about what we want:
Experienced T6 Raiders, preferably AT LEAST 4/5 Hyjal and 7/9 BT. (We'd really rather have Sunwell-experience, but obviously we'll gear up and train anyone that shows good promise.)
We're considering taking on all classes.
Anyone we DO take will NOT BE A BENCH SPOT.
We're looking for upwards of 80% attendance.
Your gear, spec, and attitude should be the best that you can make it. We are NOT looking to simply carry anyone through and give out free epics without effort on your part.
How you should apply:
The guild website is here. Simply post an application with the format provided in our forums. You get bonus points if you put "Wyn sent me!" at the top of your post. (But don't put it in the title.)
If you're a Priest, you get to interview with Yours Truly. Yay!
Okay, shameless plug over – thanks for bearing with me. I hope to speak with you soon!
Luv,
Wyn