Not happy with your trinkets?
Feeling disappointed about your lack of throughput?
Getting teased by other healers in the raid?
Then get yourself a Glowing Twilight Scale today!
In all due seriousness, this is one of the best trinkets you can get. If you can snag one of these, you're virtually set for the rest of the expansion. Let's ignore the spellpower bonus for now and look at the proc alone. Every time you use it, your direct heals will cause the target of your heal to heal both themselves and friends within 10 yards.
Not quite sure which spells will activate it?
Prayer of Mending bounces
Prayer of  Healing
Circle of Healing
Power Word: Shield glyph
That's not including your direct healing nukes. But yeah, it will trigger off each target hit by your AoE spells. In theory, you can overlap your raid with these HoTs within seconds. It's called Twilight Renewal.
It will also activate Trauma's proc.
I't's something like 356 HP per second for 6 seconds. Multiply it by 25 players in the raid, and you have a large number.
At least, in theory. And you don't have to be a theorycrafter to understand that you're providing a lot of painkillers and Asprins to your entire raid during those 15 seconds that the trinket is activated.
What it won't work with:
It doesn't seem to work with Glyph of Holy Light for Paladins (needs confirmation)
Riptide (Sorry Shamans)
The HoT effect is amplified by the ICC zone wide healing buff. It doesn't seem to gain any benefits from your character's spell power.
Here's a comparison from the logs of select volunteers on Plus Heal.
A Discipline Priest on heroic Sindragosa 25 (Time elapsed: 6:30)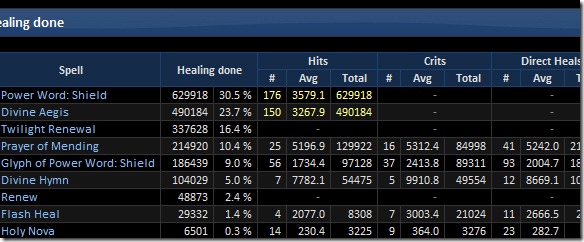 A Holy Paladin on heroic Sindragosa 25 (Time elapsed: 7:24)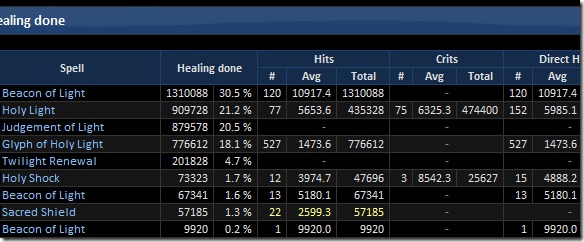 A Holy Priest on normal Sindragosa 25 (Time elapsed: 7:06)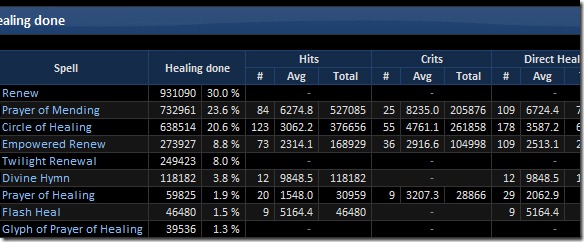 It's difficult to create lab conditions, but this is the best I can do. Two of the encounters were on heroic and one was on normal for Sindragosa. Just a few things to note though:
When the trinket is activated, you gain Eyes of Twilight (which is when your heals get amplified and start spreading around). In this example?
Discipline Priest – 3 activations
Holy Paladin – 2 activations
Holy Priest – 4 activations
The heal gains for Holy paladins aren't as bad as it's made out to seem here. I think if they all used it the same number of times (like 3), we'd see fairly close margins. Maybe within 2-3%? I'm still going to bet money that a Holy Priest has the slide edge in terms of proc maximization (and purely proc maximization).
So who does it go to?
Give it to your best healer.
If they're all equally deserving of it, and you want to approach it from a raid min maxing perspective:
Holy Priest
Resto Shaman
Disc Priest
Resto Druid
Holy Paladin
At least, that's my personal take on it. You're free to assign it however you like and you'll want to look at any number of combinations such as who needs it, attendance, looks, etc.
Anyway, don't be like me and give it to a Holy Pally who quit the guild within the next week because he wanted to devote his time to PvP instead and joined a straight PvP guild.
Any Holy Pallies or Mages out there? We're looking for some really excellent ones. Bonus points if you can do the invisible thing on Putricide.