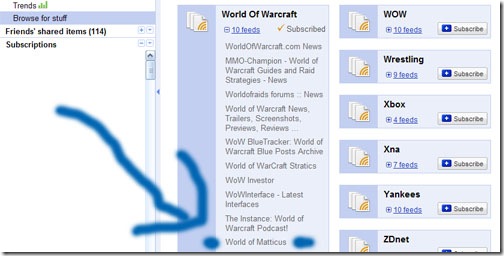 Google Reader comes with subscriptions for many different topics on the internet. These are called bundles. These bundles can contain a varying amount of feeds from blogs related to that topic. It's useful if you want to find a set of blogs to help fill up your reader but you don't happen to know which blogs are good (or blogs that even exist!). Bundles tend to provide a nice place to start.
In Google Reader, click Browse for stuff on the left pane (highlighted above). At the top you will see Recommendations and Browse. Click the Browse tab. Then click Browse all bundles. There you can subscribe to packages that happen to catch your interest!
If your curious about what bundles I subscribe to:
Branding
Copywriting
Blogging
Freelance
Hockey
Journals (Yeah, the academic kind)
Leadership
Legal
Marketing
Psychology
Usability
Web Design
WordPress
World of Warcraft
Writing
It didn't actually hit home until I saw it. It turns out my blog is liked by Google enough to be included with their "bundle" for World of Warcraft.
What on earth were they thinking?
I remember Lassirra mentioning this to me last month. Or the month before that. Fascinating! Speaking of which, she's set up a new layout. Go check her out. The Hunter's Mark has officially gone environmentally friendly.
To all you young bloggers out there, the key ingredient to blogging is a strong work ethic! Keep writing and success follows.