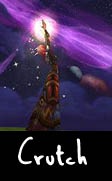 This is Crutch's SYTYCB week 2 entry.
Has raiding Karazhan become a weekly chore? Something you put up with just to get your 22 badges? Have you gotten to the point where your raid instructions for bosses are "Kill stuff heal stuff don't suck"?
It sounds like you're ready for Musical Karazhan!
To play Musical Karazhan, get a DJ (yourself, of course!) and nine other raiders into vent (or TS, or the communication program of your choice), but instead of using vent for raid instructions, you use it as a jukebox for the raid.
I recommend using fairly well known songs for trash, music that is either amusing or classic. You want to entertain your raiders as much as possible, after all. If you'd like, you can even take requests!
Most important, however, are the songs you use for bosses. And hey, what would I be doing here without giving you some recommendations?
(Warning: Some of the videos may be NSFW.)

Opening Theme – Ghostbusters: Get yourself in the mood for some ghost slaying with a little movie classic… because, really… are you afraid of these ghosts?
Midnight – Theme to Mr. Ed: I've always thought Midnight was the more… formidable opponent. The comparison of Wilbur to Attumen is just a bonus.
Moroes – Be Our Guest: Moroes just wants to serve you dinner. Most people would prefer not to become undead first, though. I must admit, however, I always get just a little hungry during that part of the raid. All that tasty looking food on the tables… I think I'd better get myself a pizza.
Maiden of Virtue – Like a Virgin: Surrounded by all of those concubines and succubi, it's hard to believe that Maiden is still virtuous. However, if she wants to be like a virgin, it's fine with me.
Opera – Each event requires something a little different. (I can't quite bring myself to wimp out and provide you only one song…)
Big Bad Wolf – Little Red Riding Hood: Because you're everything a big bad wolf could want! aaooooooooooww…
Wizard of Oz – We're off to see the Wizard: (Dark Side of the Rainbow might be a little obscure for most raiding audiences, hmm?)
Romeo and Juliet – #1 Crush: (Bonus points and cookies if you can get anyone to faint by remembering the movie…)
Nightbane – Through the Fire and Flames: You're almost halfway through! Make sure to give your fellow raiders a bit of a pick-me-up. Although, you might warn them to turn down their speakers a little bit first…
Curator – Domo Arigato Mr. Roboto: We want to thank you, Curator, for giving us our first taste of tier sets all those months ago. Also for making our DPS feel mighty about those amazing crits during Evocate.
Illhoof – The Devil Went Down to Georgia (and there are other versions as well!)
Shade of Aran – Shade of Aran chant: Sometimes, you still have to give raid instruction. Thankfully, in this case, you get the raid instruction and the song at the same time! Of course, if the chant reminds you too much that you're in Karazhan, you can always try another take on Flame Wreath…
Netherspite – I Swear I Saw a Dragon: With lion's head and eyes of red, this dragon may be the hardest challenge in a musical Karazhan run. I recommend setting up assignments before you start the run.
Chess Event – The Story of Chess: Learn about why chess was invented, as you take down that cheating Medivh. Don't cheat when you play actual chess later, cheaters never win! (I mean, just look at Medivh…)
Prince – Still Alive: Rub it in Prince's face that, even after all of these bosses, you're still alive. And when he's dead you will be still alive. Well, at least as long as you don't get bad infernals.
What songs would you add for Musical Karazhan? Perhaps you want to extend this to SSC/TK, or even MH/BT? Share with us your song ideas, so that all of our future Musical Raiding may be a triumph!