I use PUGs to gauge a lot of player response to content, the new LFG tool has made it that much easier and given me a broader spectrum to poll. A lot of times I'll bring it up in random banter and ask people what they think of the current content and such. Occasionally I'll join a PUG raid on my Hunter in an attempt to gear her up outside of the guild's assistance, but also to see how the pugs are doing on raids and ask questions without "Lodur" around. I'm guessing you're wondering what this has to do with the "Hyjal / Sunwell" effect, and indeed what is the effect anyways? Well, I'd like to share some recent and past observations with you.
Let me explain to you what the Hyjal / Sunwell effect is.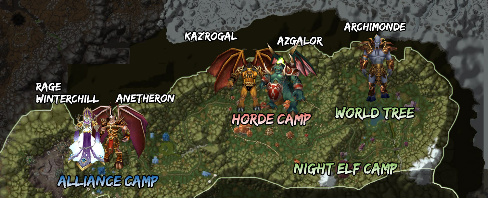 Back in BC when end game raiding was all the rage, you had Black Temple, Hyjal and then the culmination of all things raiding for that time Sunwell. Hyjal Summit was an interesting raid instance. You sat in one of two camps and waited for trash waves to come to you. After you were done killing the trash waves a boss would spawn and come for you. The zone had 5 bosses. 4 of those bosses could be broken down into tank and spanks after their various tricks were discovered. Aside from the last boss it was a very easy instance and at the very least on my server, the zone up to the Archimonde fight was easily PUGable and there were many many Hyjal PUGs weekly. I know because I used to go to them on my hunter. So we can assume a level of ease at least for the first 4 bosses, with one boss that was a PITA but still killable.
Then came the Sunwell, and everything changed. People ponied up and the PUGs surged forth expecting to roll over some trash and get some trash drops and maybe even down a boss or two along the way. Then they encountered the first pulls, and it was like watching a charging bull hit a steel wall. Giant arcane powered robot wiped the raid in nothing short of what could be called a spectacular explosion of brightly colored bodies. I heard stories of established raiding guilds having to work hard on some of the trash and in some cases still wiping, let alone hitting the bosses. Trash required solid use of CC and careful maneuvering. The bosses were complex and required coordination in order to succeed. I never saw a PUG get past Kalecgos, and the ones I heard got there, only barely beat trash. That is at least how it was on my server. There were PUG / Farming groups that would go and kill trash, then run out and reset and lather rinse repeat in order to farm gems, gold and trash drops, but those groups required a certain level of gear (and they did check) before they would consider you. And that's just for trash farming! People pissed and moaned that Sunwell was "soooo hard", my argument was that Hyjal made people complacent.

Enter Wrath of the Lich King. The raiding scene in wrath mirrors pretty well that of BC but builds upon it. Naxxramas became our new Kara. Ulduar provided us deep lore and some decent challenges. and then came ToC (25). Trial of the Crusader offered an easy loot system (the tier available for badges alone), an instance with NO trash only bosses, and to be honest fight mechanics that weren't terribly difficult. While it did require some coordination, I have seen more PUG groups successfully complete it then any other raid instance. The 4 bosses leading up to the final boss are gimmick fights like Hyjal was, with the final boss being a tank and spank get out of the way healers just heal fight. I'm not saying they aren't fun, and as much as I hate to admit it Faction Champs is a blast watching my raiders run around like chickens with heads lopped off, but it just mirrors Hyjal a little too much as far as it's placement in raid progression, content and general feel of the zone.
Now in Wrath we have Ice Crown Citadel. It mirrors Sunwell almost perfectly as well, especially with Chill of the Throne being so very similar to Sunwell Radiance. The fights are markedly harder and the trash is capable of killing a raid. The trash pulls require use of CC like priest shackles and paladin fears / stuns as well as requiring careful positioning of the raid. Random triggers cause giants to spawn that can interrupt spell casting and saber lash a tank into nothing in no time. The bosses while not overly complex, still require a certain amount of raid awareness and coordination and use of abilities such as CC to win. Lady Deathwhisper is a pain when not done right and it requires a lot of coordination to get all the components down pat. Saurfang is a beast of a fight currently and while people have beaten him I have yet to find one strategy that doesn't call for at least two people to be sacrificed. That says something right there. What amuses me the most is the people who were pugging ToC (25) went rushing headlong into ICC (25) and in most cases hit the trash on the first landing and splatted. On my server I can't find a PUG for ICC (25) on my Hunter, as a matter of fact she has an easier time finding ToGC (25) pugs. And while the argument can be made that the 10 mans are puggable, I say that while I've seen some pugs do ICC (10) the players almost always out-geared the 10 man tuned version. I also hear it from some of my raiders. We've been having fun with Saurfang. Random things like moonkin's pushback randomly not working, Tanks dcing, starting the fight and immediately having 8 raiders get Mark of the Fallen champion. These are things that make new instances fun for me.
But I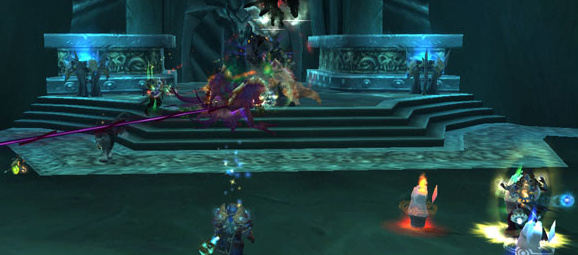 hear the murmurs in the crowd. I have some raiders in my group that think ICC is too hard, I've been in pugs with my hunter that people have done nothing but complain about the difficulty of the new fights. This is what I call the Hyjal / Sunwell effect. ToC gave us a certain level of apathy. Sure Heroic Faction Champs is a hell of a fight, but once you get the basic concepts down for it is it really that hard? ToC spoiled us with easy loot and fast content, and as such continued the cycle of Hyjal / Sunwell. The effect is in the disparity between two level of content on such a level that it is noticeable among the general population. So now I hear people complain that Marrowgar hits too hard, or Saurfang is tuned too high. Personally I love it. I love content that makes me think and re-evaluate my raider assignments. I love actually having to go through trash to get to that boss and fight mechanics that while they may not be new are interesting in the way they are combined and presented. I love going through cut scenes and NPC conversation and hearing the lore behind the raid zone and feeling like I'm in epic content. The difficulty will only go up as each wing and each new boss and it's mechanics are unveiled, and personally I can't wait. I'm also excited that the vast majority of my raiders feel the same way and not everyone is suffering from the Hyjal/Sunwell effect.
What about you guys? Have you noticed people complaining about the difficulty? Raiders or PUGs? How do you feel about the new content so far?
Until next time,

Images courtesy of Matticus, My own screenshots and mmo-champion