I could not stop myself. After levelling up my main Priest to 100, I had to level another one to provide additional resources and support. Ended up reaching level 100 on my Paladin on Saturday so I could tank on our alt raids on the weekends. Plus I'll be maxing out it's support buildings like the herb garden and the excavation mine.
Apexis Shard Farming
Once you reach level 100, your garrison will offer two sets of dailies for Apexis crystals. These things are currency for gear. Plus you can use them to upgrade the same items that you've purchased for later. Right now, it seems like the 630 level blues are available and the raid level ones will be available later on when the actual raids open. Try to knock out the the ones that give 1000 Apexis crystals. I've noticed there was a display bug. For example, today's daily offered the Ring of Blood set of dailies and that one said it would reward 800 crystals but upon turning them in, it awarded 1000.
Legendary Ring Questline
Khadgar provides this quest at level 98 but you can realistically start it at level 100. His pet an be found at your garrison and will direct you to see his tower out in Talador. The quest is called Call of the Archmage. WoWHead has a great guide on it here to help you get started.
Treasure and Rare farming for garrison resources
I'm addicted to garrison development. After playing years of Heroes of Might and Magic (with the third one being my favourite), I just have a love for base building type games and controlling armies. Treasures are the most lucrative for garrison resources although many rare mobs will drop them as well. When you take them down once, they become ordinary mobs after that and won't drop any more additional resources. The treasures that are the biggest pain in the rear are the ones in Nagrand as they often involve using those Goblin gliders to get to really hard to reach places.
Heroic dungeon farming
You need to have a 610 ilevel minimum to queue into them. Not only that, you also need to have finished out your Silver level Proving Grounds. However, it's still possible to stroll into the instance portal and get in that way if you're running with your guild or with your friends.
Challenge mode dailies
If you complete the challenge mode daily, they offer a random item that's 640 ilevel which is the level of gear from normal mode raids. For me, today's was Shadowmoon Burial Grounds which took us a solid 2 hours and 30 minutes. I'll have a writeup on that later on in the week but boy was it rough. As people get a little more geared up and more familiar, those times should lessen significantly. Not to mention, we walked in there without really knowing much about what to do and there were plenty of trial and errors.
Ashran and PvP
During the opening few days of the expansion, there was virtually no Horde in Ashran. A few of us managed to queue into it repeatedly and take advantage of the situation by farming up as much honor as possible unchallenged. I used the extra honor to buy some 620 pieces to help put myself into position to queue into heroics.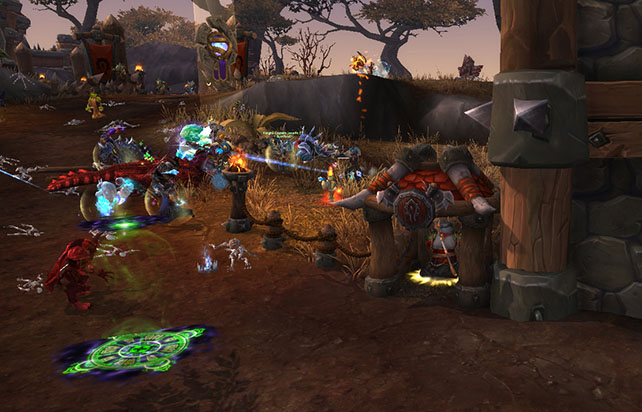 Garrison Followers
Now this is the fun part. Everyone loves having more followers! Don't forget that if you want to upgrade your followers to epic quality, the experience they earn after hitting level 100 goes towards that. So you can turn superior followers into epic followers just by repeatedly sending them out on missions. Here's a few easy ones you can pick up:
Check out this link on WoWhead for a full list of followers that can be earned via quests!