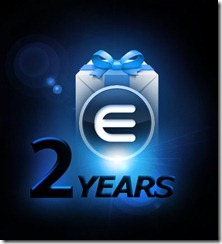 Our premiere partners at Enjin are celebrating their second birthday! (Disclaimer: I do advise them when it comes to their services from a GM perspective and the actual links are affiliate links).
From one guild master to another, I can't recommend their services enough. In the past, I'd use my own combination of forum software, blog software, and EqDKP hacks to manage my guild's online presence. On of top of that, I had to stress over the looks, too.
Now I don't know about you but as a guild master, I'd rather spend my time actually playing the game with my guild instead of having to fret over the technical stuff.
I don't have to worry about loot tracking. They do it for me.
Attendance? That's taken care of.
My guildies can keep track of each others blogs.
The best part? An actual recruiting form for applicants. In the past, we had a separate forum where users had to copy and paste an existing application template into a new thread. It was archaic! But with their modules, all we had to do is come up with the questions.
Their promotion started a few days ago. But it ends tomorrow! If your guild's web contracts are coming up for renewal, consider using Enjin to power your guild instead.
Enjin offers three plans. Here's the scoop on their current deals:
SAVE 40% when you prepay for 1 year on any plan!
SAVE 40% on all themes and headers!
SAVE 30% when you prepay for 6 months on any plan!
SAVE 20% when you prepay for 3 months on any plan!
Their Ultimate plan is the best value if you opt in for a year. With the 40% discount, that's $17.97 a month. For smaller guilds, Premium might be the better option for you. For a year on the same promotion, that's a $5.37 a month.
That's approximately three dollars a month without having to fret about technical issues, upgrades, or other problems.
But hey, if you're still sceptical about their services, you can always move your entire guild and try out their premium plan for a month first. See how your guild likes it.
Hurry! You only have a day left before the deal expires!