In this second installment of the Build your Own Guild series, I am going to teach you how to establish the rules and policies that will help your new raiding guild run itself. Well, that's an exaggeration. However, without a clear set of rules, your guild will always be rudderless. Before one person signs that charter, you need to lay down the law in black and white. The post outlines the three types of policy that you should establish before your guild even zones into its first instance. The following tips assume that you will have a guild website (after all, we play an internet-based game, right?). These documents and policies need to be the core content of that website when it first goes up.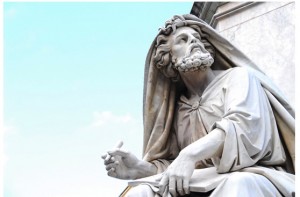 1. Guild Charter
In Part One, I encouraged you to meditate on your goals and desires for your new guild. Now you must put pencil to paper and share your vision with your members. In my opinion, the more the guild expects to accomplish in terms of raiding, the more important your mission statement is.
Your charter should answer the following questions:
a. What is the guild's goal?
b. What is the guild's attitude?
c. What is most important to us?
I'll quote for you one of my favorite passages from my guild's charter. It really shows who we are as an organization:
"We value kindness, fair play, and respect for others over loot or in-game success. Our policies work toward ensuring a positive environment in which everyone can enjoy the fruits of our labor."
I welcome you all to read the entire charter and even use it as a model, but I will warn you that it's out of date. Since the original charter creation, we've decided that we're a real raiding guild after all. The long road between Gruul and Illidan changed us as an organization. I should take my own advice and adjust the language to our current practices!
You don't have to create your charter from scratch. Many guilds make their websites accessible to all, and if a guild is recruiting, sometimes you can even create a user account and view their policies. I recommend doing a bit of snooping around–find guilds you admire and know are successful, and copy what they do. The tone of your charter should suit the mood of your guild. My own guild operates in a rather serious mode. If you prefer a raucous, no holds-barred environment, use irony and humor when you write that charter. For an excellent example in this mode, I'll direct you towards the hilarious charter of a guild named Dread Lobster, as quoted by fellow druish blogger Runyarusco. I laughed so hard, I (almost) wanted to join.
2. Code of Conduct
Even the most laid-back guilds have certain expectations for their members' behavior, and you ought to explain them either in the charter itself or in an appendix. Collateral Damage sets a very high standard, and unlike many guilds, we restrict profanity (well, in guild chat anyway) and chastise members severely if they disrespect one another. If you want your members to act in a certain way, let them know from the very beginning. That way, if you need to g-kick someone for a behavioral issue, you cannot be accused of unfairness. On the flip side, if you want to foster an open environment where insults and un-PC jokes fly thick and fast, let prospective members know that.
3. Conditions for Membership / Raider Status
If your guild intends to raid seriously, you need to have some means by which you determine who gets to raid and who does not. This type of policy will not seem important to a start-up guild that can barely scrape together enough tanks and healers for an introductory instance, but as you start to have success, you will have to deal with over-crowding. My guild chose not to put in a Raider Status from the beginning, and I have always regretted it. We have always walked the razor's edge between being inclusive and optimizing rosters, and I know it's cost our raid leader hours of frustration and worry.
Raiding guilds typically fill their scheduled weekly raids according to one of two successful models.
Model A
Everyone who is a regular member of the guild is a raider, and a Raider Rank would be redundant. The guild is small and does not recruit beyond the minimum number it needs to do the raid content.
Model B
The guild has members who raid and members who do not. These "casual" members may be friends and family of raiders, or they may be longtime members who have had a change in status. When you have two such different constituencies, it is only natural that at some point, one or more of your "casual" members will want to raid. At that point, the concept of Raider Status comes into play. Raider Status can typically be earned through attendance and performance, and it comes with the privilege of being on more raid rosters. It should also be possible to lose Raider Status through consistent poor attendance, bad behavior, or sloppy play.
Given a choice, I would go with Model B. From a management standpoint, it is more difficult to handle a larger, more complex guild roster, but you have a better chance of running all your raids. With Model A, if two of your players go on vacation, your raid is toast. Collateral Damage has a large number of members, and we have been able to run all of our scheduled raids this summer except for the one the Sunday before Labor Day. That's a pretty awesome ratio considering the rash of expansionitis that's been going around.
If you DO set strict conditions for membership or Raider Status, you need to define these specifically. Your attendance policy should require not only a percentage, but also tell how often that percentage will be re-calculated. For example, you might require 75% attendance over any two-month period. That allows your players to go out of town every once in a while. Moreover, never be vague about your raid preparation requirements. Instead of just saying "come prepared," do as Catal, our raid leader does and spell it out in no uncertain terms:
What you should bring:

– A good attitude – We're going to wipe… a lot.
– PvP trinket and PvP/Stam gear – The focus will be on survivability.
– 2 flasks of your choice.
– Lots of health/mana pots.
– Lots of reagents for buffing.
– Have decursive loaded if you will be responsible for dispelling Grip of the Legion (curse).
This set of requirements applies to our attempts on Archimonde this week. Every raid sign up comes with one of these, and you may find it useful to have a general set that would apply to every raid.
Conclusions
Phew! Now you have three basic documents that your members will be able to refer to when they have questions about how the guild is run. Believe me, they will hold you to what you say, so always keep your policies up-to-date. For Collateral Damage, things didn't turn out according to our first design, but they worked out all right nonetheless. However, I should /pinch myself for not updating the charter. These documents are a contract between you and your members and it is in your best interest as guild leader to hold up your end.
For next time, we'll be looking at the fourth and arguably most important policy that a new guild needs to have in place: the Loot System. You must choose a system early, because the first thing most recruits will ask is how your guild handles loot. Next Wednesday's post will outline all the sordid details of loot distribution, and I'll tell you some choice horror stories of loot QQ, I promise.
If you still haven't satisfied your appetite for information on guild managment, I'll refer you to Auzara at Chick GM, who is the guru of guild-mastery and all related issues. I always find it beneficial to take into account multiple perspectives on important topics.