I hesitated a bit when writing this post largely because I know how the community feels when it comes to "scoring" players. No one wants to be condensed to just a number or a value. At the same time, the idea of a player's gearscore has evolved to into another concept where a players capability and potential can be scored.
Why rate players at all?
Its a good question. For raid leaders who are assembling their groups from strangers, it can be a bit of an exhausting process to individually armory players and figure out if they can compete in the level of content that is being worked on.
At the same time though, not everyone knows the strengths and appropriate stat weightings of every class or spec. I'm a healer. I don't know much about Rogues or Hunters. I don't know how to tell if they're gemmed or enchanted properly.
When raid leaders are getting runs going, they have to balance two things: Players and time. We need to make sure we get ourselves a competent crew to run with. We need to make sure that we can assemble it within a reasonable amount of time or else people will simply leave because of time constraints. Between inspecting players, asking questions, and achievement checking, that time can add up especially when players get turned down.
What exactly does it measure?
Gearscore currently examines a players gear and assigns a value based on the overall "power" of their items. It doesn't know whether a player enchanted or gemmed their gear wrong. It isn't smart enough to determine whether a Ret Pally wearing cloth instead of plate should get penalized.
Gear does not determine player skill at all.
But it does determine the maximum damage, healing, or tanking a player can do.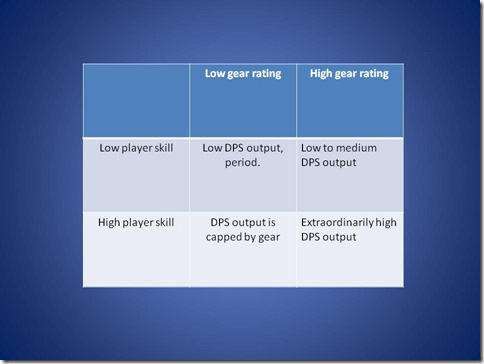 Let's use a DPS player as an example. The above table represents in my mind the two qualities I look at when bringing in a player.
Gear: Like it or not, gear ultimately determines the range at which a player can do damage. The better the gear, the higher the potential. They can still do low damage even though they have competitive gear.
Skill: You can't look at the skills of a player until after you run with them at all. Personally, I like to assume the best. I'll rely on their achievements for a better look. While its true that people can get carried when clearing Trial of the Crusader, its difficult to say that when the player in question has killed Anub'Arak on Trial of the Grand Crusader.
Both aspects are intertwined to a degree.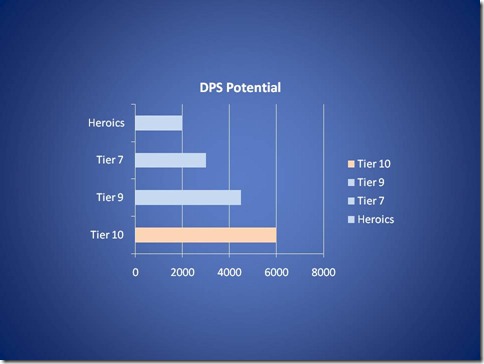 These are extremely rough estimates and I know that encounters will have a huge determining factor in the overall DPS that can be done. Its also going to vary by class mechanics and so forth.
Lets just assume for the second its the same player on all four characters with different levels of gear. In all cases, he could do 1000 DPS. Maybe this Elemental Shaman would bind Lightning Bolt to every key and just faceroll all over it.
But if the player is using every cooldown and nailing every rotation, then what restricts his damage is his gear. Only one set of gear is going to allow Elmo, the Elemental Shaman to do or exceed 6000 DPS. Its all about potential.
Lets move on to Elitist Group
I wrote about this on No Stock UI this morning, but I wanted to mention the usefulness of this tool to raid leaders and what type of information I'd glean by looking at this.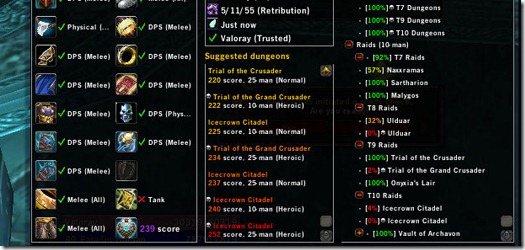 This is the sheet of my Retribution Paladin, Valoray. Its a bit outdated. I picked up a new cloak and chest and haven't gotten around to enchanting either of them. Anyway, according to Elitist Group, I'm using a tanking Libram (really?) There are a list of suggested dungeons down the middle that I can participate in. EG has tallied up what I have along with the gems I have and has assigned me a gear rating of 239. This means that my Paladin is theoretically able to compete in Icecrown Citadel raids as long as they are not heroic.
(Also, I need a reminder to switch to an Exorcism glyph once I hit a certain amount of expertise which I can't remember the value of)
But what about my skills and my experience?
Over on the right pane, you can see the list of raids and achievements that I have completed.
Hmm.
No hard mode achievements. Fully cleared Trial of the Crusader. Made some slight progress in Icecrown Citadel. Didn't knock out Ulduar entirely.
This Paladin fails. Lets move on to someone else.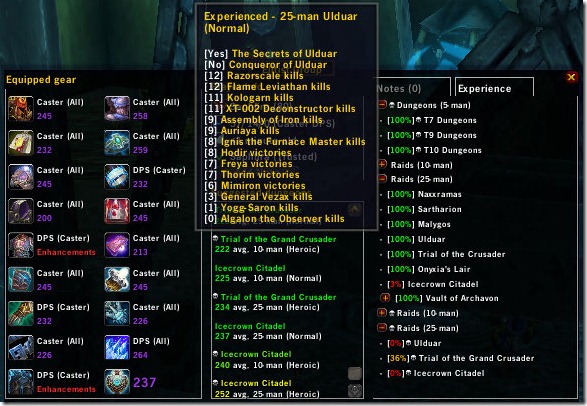 And here we have my Elemental Shaman.
Still using that Deathchill Cloak. EG has red flagged my chest and legs. I'm using spellpower and stamina gems in them. And my legs are also using the spellpower and spirit leg enchants.
What a terrible Elemental Shaman.
Glyphs seem to be okay (although I heard Glyph of Totem of Wrath is making a comeback?) A gear rating of 237 indicates that my Shaman is slightly less powerful than my Paladin. But what about her experience? Mousing over the Ulduar 25 raids, we can see that the Shaman has at least 1 Yogg-Saron kill under her belt. She meets the EG recommendations for Icecrown Citadel on 10 and 25.
She even has 36% completed in Trial of the Grand Crusader having taken down heroic Val'kyr Twins twice (although to be fair, that group lucksauced it with the door strat).
Given the choice, I'd probably pick the Elemental Shaman because she has done a bit more in the game then the Ret Paladin has.
(Although in due practice, I clocked about 4900 DPS on Saurfang last night on 25 so I'm questioning my Elementaling abilities, sadface)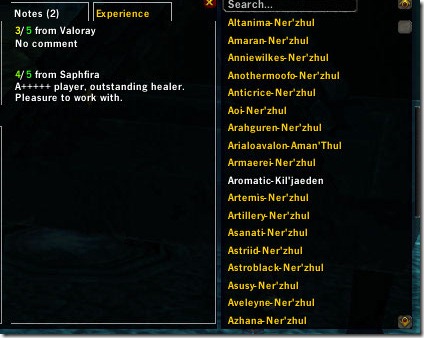 Lastly, the Notes system can be used for further information in the future. After you finish a run, you can add a rating from 1-5 and leave a little comment. Each comment you leave overrides the previous one. You can use it to leave useful things like:
Has dual spec and can tank or heal
Only wants to run for Emblems
Has a DPS alt named <blank>
Managed to outheal Matt (Invite him, it makes him look bad)
(If you're wondering about the comments on the screenshot, I happened to be doing some Ebaying of MTG cards at the time. Speaking of MTG, I started another blog specifically for it: Topdeck.me)
In any event, use Elitist Group. It condenses most of the information you need into one accessible place. You can see what they've done and get an idea of what the character is ready for. To a healer like me who doesn't know enough about other classes to make snap judgments, this advises me on whether or not I should outright reject a player or consider them.
Then again, I rely on other experienced players to handle the inviting :D.