It's not often I do late night posts. They usually come out all funky and misunderstood or full of typos and other clerical errors. At the same time, the evening is when my mind is at it's most active. This is going to be a fairly decent sized blog post about some big changes that have been announced.
Yogg Saron
Tonight we managed to kill Yogg-Saron on 25. It took us around 6 weeks (or about 12 hours total) to clock him out. Previous weeks involved the melee clicking and the ranged DPS still struggling or some melee players having portal difficulties and the ranged just killing tentacles one after the other. I'm proud to say that everything came together tonight. I believe that this was one of our most complete attempts and kills. I felt like a hockey GM in the week leading up to the trade deadline. Trying to add the pieces and classes that would help us cash in on a playoff run (Raid bosses are my playoff series). Syd did a beautiful job looking for diamonds in the rough. It took us two shots tonight. I'm extremely proud of the players in the raid tonight and grateful for the players who weren't there but helped contribute to the learning process over the past few weeks.
Hard mode attempts begin this week. Leaning towards Flame Leviathan first. Just found out that it's possible for a Demolisher to have a driver, a gunner, and a player loaded and ready to fire at the same time. This presents some intriguing possibilities.
One buys all
Universal armor tokens. I'm surprised this wasn't reported earlier. My wow.com colleague Mike Sacco mentioned this during the day and it took me a few seconds to realize what it meant. You won't have to fight specific bosses for specific tier tokens anymore. As in, there is no more head token, chest token, or shoulder token to cash in. You get one tier token of your armor set (Protector, Conqueror or Vanquisher) and then it can be used to buy whatever piece you like.
And I know someone's going to come in here and say something about catering to the casuals. But hell, this caters to everybody. Loot council's going to have a fun time assigning these tokens. Sacco presents some great arguments in his post that I will reiterate briefly here:
Upgrade sets at your own pace: Several players in Conquest have held out on tier pieces until they acquire a certain amount stating that they wouldn't use them right away because their current items were better. This change allows players to specifically target which pieces benefit them the most.
No wasted tokens: Mix and match your 10 and 25 man tokens. You don't have to feel empty for replacing your Valorous gloves with Conqueror gloves.
You'll get your 4 piece… eventually: At the rate you're organization is going, it really is going to be possible to get it.
Many of the Triumph and tier tokens are functioning as a partial gold sink. Not only do the tier 9 pieces require a Regalia token but you're going to have to shell out some coinage to pick them up. They're in the neighborhood of the 50 to 70 gold range. Doesn't seem like the gloves have a monetary cost.
But, it's the PTR and nothing's ever finalized.
Priest tier 9 pieces
I wrote about that on wow.com. You can find my thoughts on it (and a history of the names) on there. Wyn seems disappointed at the 4 piece bonus.
Triumph vendor items
Here's a few screenshots for you to check out. I think images are worth a thousand words.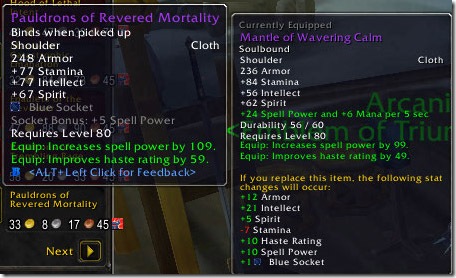 Pair it with the Intellect trinket from Mimiron (Pandora's Plea) and you're good to go.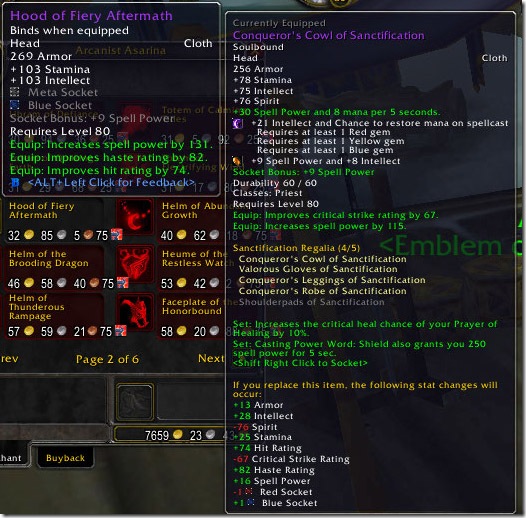 Hit rating helm, I know. BoE though. If it wasn't for the hit, it'd make a fairly juicy helm for Discipline Priests.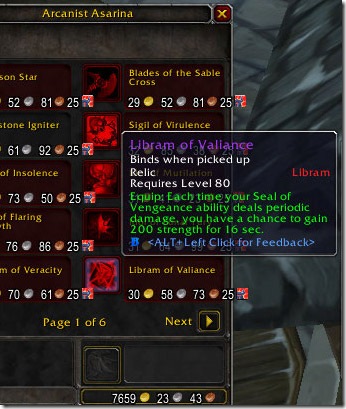 (Am I going to want that Libram on my Ret Pally if I have the one from Naxx that increases my Crusader strike damage or should I pursue other items with badges?)

I managed to replace both of my rings tonight. Packing both Radiant Seal and Lady Maye's Sapphire Ring now. I wonder who Lady Maye is.
Exodus exploit thoughts
Ingenious. The method used to down the boss was absolutely brilliant! The idea calls for something like a Warlock and a Paladin entering the brain room. You're relying on healing aggro to cause the outside mobs to evade bug. So the Warlock soulstones the Paladin, the Paladin DI's the Warlock upon transition from phase 2 to phase 3. Paladin pops up, warlock clicks off DI, starts casting Life tap like crazy while the Paladin bomb heals him for an insane amount causing the outside mobs (the ones that are piling up) to immediately aggro on to the Paladin (who is untouchable as he is inside Yogg) and trivializing the encounter.
There's some comparison to the method that Ensidia used to exploit for their Hodir hard mode kill. It involved kiting and tanking plant trash from Freya to Hodir. Mages would spell steal that buff and proceed to use it in the encounter. While it wasn't exactly causing mobs to bug out, it's still an unintended side effect. Of the two exploits, I have to admit that the Hodir one is a little more impressive.
These upcoming weeks are only going to get busier. Actually, the next few months are going to be flowing with news and features. If the faction change is something they announce in a blue post, it makes me wonder what else could possibly be announced at Blizzcon.
Heading to bed. It's 2 AM.