There is a discussion that has spawned on Plus Heal about the high use of Renew in T9 and T10 raids. Some players were asking about it and I felt it was enough to touch on and elaborate further about here.
What is it?
The Renew heavy spec: Take a look.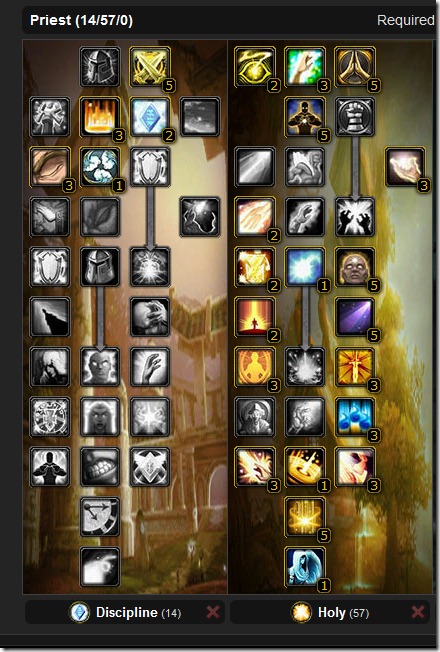 It's essentially a 14/57/0 Holy priest build but there are a few key talents that are missing. Almost all direct healing spells do not get talented. Talent staples such as Empowered Healing, Divine Fury, and Improved Healing are skipped over entirely. Instead, Blessed Resilience, Empowered Renew and Test of Faith are all taken and maxed out for amplified Renew… age.
Single target healing spells aren't used much.
Flash Heal would mostly be used during Surge of Light procs (when they're free). When looking at spell usages, it'll be a mixture of Circle of Healing, Prayer of Mending and lots of Renews until the cooldowns are available. Prayer of Healing is another option when strong AoE heals are needed.
For glyphs, it would consist largely of:
A case could be made to include glyph of Renew in lieu of Guardian Spirit but that's assuming that cooldowns might not be needed. I don't know, the ability to boost healing received every minute is like a reverse 2 minute DPS cooldown, you know?
You can expect a really high amount of overhealing to come from this style of play especially when you are paired with multiple Druids. The line of thinking here though is to sustain your raiders and "slow down" whatever damage ticks they are taking long enough for a Chain Heal, or a Holy Light to bring them back up to the green zone.
What are the benefits?
Master of Priestcrafting, Zusterke, points out that:
A glyphed Flash Heal costs roughly the same as Renew
Both spells can trigger Holy Concentration
An Empowered Renew can hit with an instant heal in the 2-3k range (Flash Heal takes 1.5s to produce a 5k-6k heal)
Renew is a HoT and still produces healing after it is applied
It doesn't require a glyph (although the glyph is handy)
Where could I apply it?
In Icecrown, I can think of several instances where a heavy Renew style would be very beneficial. Against Lord Marrowgar, Bone Spike Graveyards can be cushioned quite easily. Lady Deathwhisper, jus about every player would benefit and those caught in death and decay have an extra second or two to bail out. On Saurfang, players suffering from Mark of the Champion would have some increased insurance.
In the Plagueworks when fighting Festergut, the gases that damage the entire raid can be mitigated with a whole bunch of Renews. Against Rotface, even though the healing is halved, those affected by the slime debuff when they have to run out could move a bit further before a dispel is necessary. It's also great for stabilizing the raid after one of those Oozes explode. When engaging Professor Putricide, preemptively Renewing the raid just before a green ooze makes contact or on any number of other aspects of the fight can grant a slight edge.
To finalize
I'm going to give this a shot this week and see how it works out. It's not quite the same as dropping shields all over the place, but you can see the similarity when it comes to "blanketing the raid".
Anyway, it's a style and spec to consider so keep an open mind.