Thaddius is the idiot check boss of Naxx. There might be others (wait 'til I get to Heigan), but I do think this one really separates those that can and those that can't. You'll find out why momentarily (but keep the first boss of Heroic Mechanar at the back of your mind).
Engage
When you enter the room, you have to engage two mini bosses before you can engage Thaddius. Fuegen and Stalagg need to go down together within seconds of the other dying. Unlike the original Naxx, you don't have to stack melee players on one side and range on the other. The raid needs to be split fairly equally with 5 on one side and 5 on the other. It's going to be hard to do with 5 total DPS (assuming 2 tanks and 3 healers) so I recommend pairing your top 2 DPS players together and the bottom 3 DPS players together. If necessary, adjust on the fly and rotate a DPS from one side to the other to help play catch up.
The two tanks (literally) will fly back and forth and switch between Fuegen and Stalagg respectively. I think when the Tesla Coil portion of the fight activates, the tank switches. Healers have to be aware of which tank is presently on the side that they are on. I suggest using a range finder of some sort. Aggro shouldn't be a problem. One healer on both sides should be enough (although you'll have an extra one, so use your discretion there). AoE healing will be the order of the day. Try to ensure everyone is near full as much as possible.

Once you kill the 2 constructs, here's the challenging part. You have to run and actually jump from the ledge onto the platform below! If you decide to fall off, then you'll miss the platform entirely and hit the sludge water below (just turn around and head towards the entrance as there is a ramp that will allow you to try again).
Now you're onto Thaddius himself.
He uses an ability called Polarity Shift.
Polarity Shift: Places either a Negative Charge or Positive Charge to all nearby enemy targets. Players near other players with the same Charge type increases each their damage dealt. Players near other players with the opposite Charge type deal damage to nearby raid members.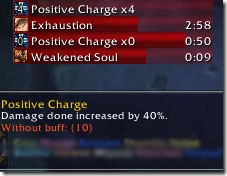 And that right there is the gimmick for the fight. I like to designate left side as positive and right side for negative. You don't have to stray too far out. Melee players with opposite charges can remain 180° from each other and still stay within striking range of the boss.
Your raid leader should be extremely vocal:
"Polarity shift soon!"
"Polarity shift, MOVE MOVE MOVE!"
Some players fail at checking their debuffs and can potentially wipe the raid. As the raid leader, I strongly recommend that you hold their hand through this as it is not worth the frustration.
Healing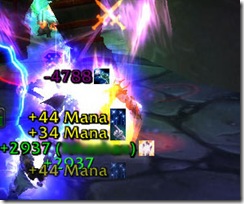 Healing is a walkover on this boss. AoE heals and single target heals on the tank should the order of the day. Your AoE healers will be able to cover both groups no matter which side they are on. Keep a single target healer on the tank at all costs. He does like to randomly fry players with lightning. It's nothing a healer can't handle, however.
One last thing
DO NOT LOOT YOUR ITEMS AFTER THE BOSS DIES! Wait for your charges to wear off before doing so or else you'll be in for a very nasty (and shocking) surprise.