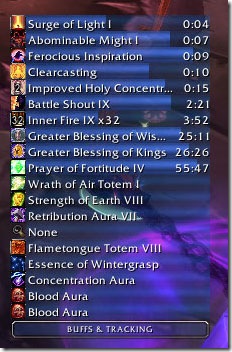 A question was posed this morning on the two articles I wrote on Spiritual Guidance this morning. A number of talents have been modified for Priests in the Holy tree.
If Surge of Light, Clearcasting, and Improved Holy Concentration proc, will Flash Heal eat all 3?
(Not the exact question, but the exact question was much longer which sort of leads to the same direction)
A quick examination of the talents:
Here's an action shot of my buffs. You'd think activating all 3 (well 2) would be rare. It actually occurs more often than you'd think. So here's the million dollar question:
What happens?
In all of my experience at beta healing, I noticed that Surge of Light gets checked first. If you cast a Flash Heal, it eats Surge of Light. Clearcasting and the 2 charges of Improved Holy Concentration remain active. The next direct heal you cast (Flash Heal, Greater Heal, Binding Heal) will trigger the Clearcasting and 1 Improved Holy Concentration charge. This will result in you having only 1 Imp Holy Conc charge remaining. The next direct heal you cast will consume this.
What if we open up with a non Flash Heal spell?
Dropping Greater Heal first will activate Clearcasting and 1 Improved Holy Concentration charge. Surge of Light will still be available. Casting Greater Heal again will eat the Improved Holy Conc charge left. Lastly, Flash Heal will then trigger Surge of Light.
So to summarize, if you have Surge of Light on you and you cast Flash Heal, it will always be free and non-crit.
Things to remember
Watch your freakin' buffs! Have your sound effects on! You should be able to recognize the distinctive chime of Clearcasting! When you hear it, dart your eyes to your buff bar and see what happens. Use up the effect that has the least amount of buff time remaining. In the shot above, since I have only 4 seconds to use Surge of Light and 10 seconds on Clearcasting, I have 3 seconds to make a decision to cast a free Flash Heal or I lose out on my freebie.
Don't forget that Surge of Light also activates on Smite. So if you don't have any present targets to heal at all, target the boss and slam your Smite key. It's free!
On the other hand, if you have less time remaining on Clearcasting as opposed to Surge of Light, cast a non Flash Heal. You probably want to use Greater Heal at this point first since the Flash will be instant.
What about Inner Focus?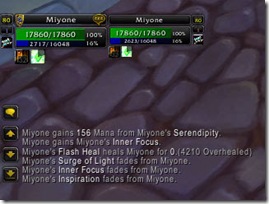 I've noticed Inner Focus and Clearcasting be consumed at the same time after one Greater Heal.
Surge of Light also gets eaten if Inner Focus is activated. Check out the shot on the right. I was able to proc just a Surge of Light. Casting Flash Heal knocks off both Surge and Inner Focus respectively. Even though there's a slightly increased chance to crit, I highly doubt it can due to the restrictions imposed by Surge.
Sigh. Isn't that just we need? More things to watch for. More complications. More conditions. More ifs, ands, or buts. Gone are the days where I could mindlessly spam stuff while watching games on TV.
However, I've adapted. It will take some time for you to do the same (even the most veteran of Priests). I promise to do what I can to ease the transition from old school healing to that of the new hotness. 
Observations taken from beta. Could change at any time. Disclaimers own you.