New site design is coming along extremely well and I'm very pleased with the progress so far. It'll definitely go up within the month. Check the bottom of the post for a sneak preview. School begins for me tomorrow which means I'll have more time to write since I won't be working as much.
So what's up, fellow bloggers? Got the no-beta-key blues? Running out of things to blog about? It is definitely the calm before the storm. I know several blogs are hitting that hibernation period where they're just waiting it out until there is stuff to write about. I suffer from the opposite. I have too many ideas but not enough time. But if you're stuck and still learning for something to blog about, let me try to help!
I have something called an inspiration file. Its basically a jumping point that I use whenever I'm in need of post ideas. Any idea I ever have whether it is good or bad goes in there. If I hit a snag one day where I'm stuck, I'll pop it open and see what's in there that I can use. Sometimes you can chain one post idea into another idea or break it down into multiple posts. I've had a habit in the past of trying to be too complete when it comes to posts and this is one way of breaking them up into smaller chunks.
Don't even worry about credit. Take an idea, twist it, manipulate it, turn it into whatever you like. Its yours to use and abuse as you see fit. Let it grow and evolve.
Your guild
It doesn't matter if you're a GM, an officer or just a guy within the ranks. There will always be players interested in policy making and guild experience as a whole. Are you satisfied with it? Any changes you'd like to see made? What are some other day to day observations?
Making Roster Changes
Lessons You've Learned
A Shift in Loot Policy
How not to Evaluate Potential Applicants
A Day in the Life of Your Guild
How to Break the Ice with New Players
Your Class
Everyone loves to read about class news and class mechanics. With the expansion months away, there is still time to teach new players (or alts) the fundamentals of playing. Or heck, if you have a burning question about a specific class, throw it to your readers. There just might be someone out there who can give you a hand with it.
How to be an Expert <Class>
Being a <Class> in a Raid
Mastering <Class> in PvP
Common <Class> Mistakes
Why You Picked Your Class Instead of a Different Class
You
Time to dive into some introspection. This could range to just about anything in regards to you. Is there something you wanted to get around to but couldn't? For me it would playing Shadow. No matter how much I try, I just can't seem to do it. Maybe you've had a problem during your experience in WoW like an argument with a player or managing loot. How did you resolve it?
Things You Wish You Knew How to do but Couldn't
One Shotting Procrastination: Your To-Do List Before the Expansion
A Personal Guide to Staying Happy in WoW: What Does it for You
Are You a Socially Responsible Guildie?
5 Tips to Never Be Late for a Raid Again
Managing Your Server Reputation
Your blog
Your blog is your soap box. Take good care of it! What are your future goals? What type of readers are you appealing to? If you've been around for a few months and have developed a steady readership (which doesn't have to be enormous mind you), ask them what they want to read about. Do not under any circumstances accept "Whatever you want" as an answer. At the same time, it does have to be a topic you're interested in writing. Lastly, ask yourself if you would read your own blog. If you wouldn't, figure out why.
Upcoming blog plans
What Would You Readers Want to Read About?
Your Blogging Goals
Fill in the blanks
Here are a few generic ideas that you can take and apply to any topic of your choice. I'm sure you can fill in the blanks and come up with something, right?
15 Tips to …
The Truth Behind …
How I did …
How to <do something> Like …
A Constructive Criticism of …
Myths About …
Other miscellaneous ideas
Tell a story about yourself or your activities. Everyone loves reading about humorous stories (They Laugh When I Wanted to DPS – But When I Rolled a Ret Pally…).
Interview someone in the community. There's a whole slew of intriguing personalities around the WoW blogosphere (or podcast crews as well). What's the worst thing that can happen? That they say no? Plus its a great way to develop friendships. I should fire up my 20 questions series again. Those were so much fun.
Ask a question. You never know what will happen when you ask a question and let the comments write the post itself. Then you can cherry pick the most insightful and turn that into a post.
Bonus: 10 Questions for a Blizzard Developer. You have a chance to sit down with a dev. What do you ask them? What do you say to them?
If you're really stuck for post ideas, you could also write your own idea post ;). Anyway, this list is just the tip of the ice berg. I didn't even go into detail about addons or raiding yet.
But hey, if you do take inspiration from any of these, drop me a line. I'd love to read it (and link to it in the future)!
And yes, the preview I promised you.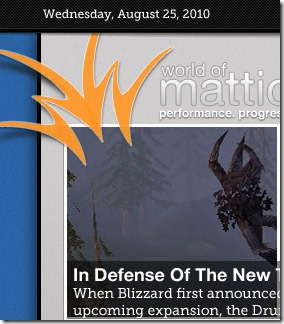 All I can say is just wait until the entire thing is ready. WoM 5.0 is almost here!