This was a post I've been debating myself repeatedly on whether or not to trash because I wasn't sure if it was worth it. Comments from the recent survey asked for more case studies and as a result, I've decided to revisit and polish this up some more.
Note: This post was written several weeks ago so the time context may be off.
Quite frankly, Anub'arak 10 scares the crap out of me.
Tonight, we were planning to zip through ToGC 10 and get it down in order to acquire additional gear and tokens. Up to this point, we had been running with 3 healers: 2 Resto Druids and myself on my Priest.
Heading into the fight, we knew we'd have to drop down to 2 healers for the extra DPS on the boss. We drew straws. Syd and I lost (actually, of the 3 healers, our DPS alternates weren't as good compared to his). This was the first time either of us would be healing this encounter.
First attempts
The first several attempts were designed to get our feet wet with managing surface phases and burrow phases. I decided to give this fight a crack with me opening as Discipline. I would cover the tanks and Syd would take the rest of the raid. We both cover Penetrating Cold between my shields and her HoTs.
Both of the tanks I kept alive through a combination of Shields and Improved Renews. Yes, a Discipline Priest who uses Renew is a rarity, but I wasn't going to debate on right or wrong ways. I had a job that involved keeping up 2 tanks alive at all costs. When that happens, you use every spell in the book regardless of your spec. Penetrating Cold seemed to hit me more often than not. I was reminded why Binding Heal was in the game.
Syd and I stood on the tail end of Anub for most of the night. Made the job easier for our tank if the Burrowers locked onto us before he could get to them. If I had the opportunity (which was rare), I'd sneak in a Shadow Word: Pain or Death once in a while.
The basic game plan was to overpower the initial 70%. If we hit two burrow phases, it would be game over.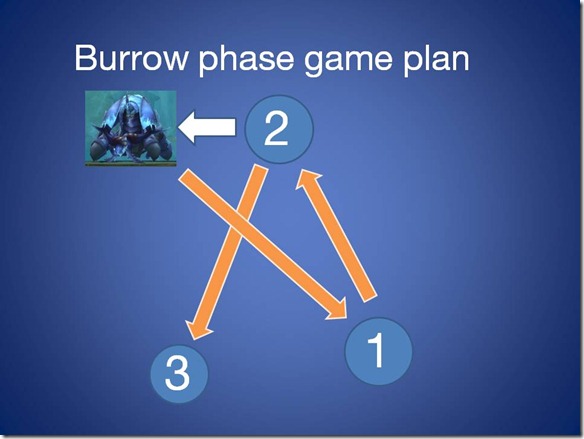 At 5 seconds to burrow, we'd yank Anub from his ice patch and drag him off to the side. This way, if melee players get focused while beating on ads, they'd have enough clearance to jet to point 1 (actually, any player that gets focused goes to point 1). The next person that gets it shoots up to way point 2. The last person heads down to way point 3.
If the timer isn't up by then, we play it by ear and bring down another orb.
Meanwhile, our players were kiting Anub to his designated spot. Players being pursued by scarabs were shielded and renew'd immediately. In the event I had nothing to do, I'd chip on scarabs with a Mind Blast and Shadow Word: Death nuke (just like Arena).
I remember one time watching Anub getting perilously close to Syd and she managed to break into Cat form and sprint, which brought us a few precious seconds before he resurfaced.
The second surface phase was a basic repeat of the first. Once we tipped him over, everything changed and this is where it got really interesting.
Note: This is where you want to start reading
My mana was at the point where it was time to break out the Shadowfiend. How convenient Heroism was used after he had spawned! I made sure the tanks were properly shielded and HoTTed at all times. Penance, Greater Heal and Flash Heal were cycled among the two tanks. I heard the distinctive cue of Tranquility firing off. I did my best to balance shields on Penetrating Cold targets as well.
Try as I might, I couldn't do it. Our Anub tank died while the beetle was at 17% or so.
The next attempts were more of the same.
Main tank dead at 12%.
Main tank dead at 15%.
This was true triage.
Whatever I was doing, it wasn't enough. Frustration, anger, you name it, I felt it. I didn't think there was anything wrong with the Disc Priest class.
There was something wrong with me.
Syd, with her uncanny knack of detecting my mood (must be a girl thing) suggested the brilliant idea of me going Holy and her looking after tanks instead.
Structured cooldowns
Before I forget, I wanted to mention that we became more disciplined in our cooldown use. We decided to script our cooldowns in advance. We had a Prot Paladin, 2 Druids (Boomkin and Resto) and a Priest. In other words, we had 3 outs. The Druids were placed in separate groups for Tranquility.
We had no troubles adjusting to surface or submerged phases. We hit the 30% mark again and it was do or die time.
For group healing, I kept a hasted Prayer of Healing ready for the second group while a glyphed Holy Nova was reserved for mine.
The players were lowered to 50-60% ranges before firing off heals. Empowered Renews were placed on Penetrating Cold targets at all times and the tanks if they were getting too low.  We were all within close proximity of each other. Surge of Light activations were held for sudden Penetrating Cold victims (like if they were at medium health and gained the debuff).
Once I felt we were about to get overwhelmed, I called out for a Tranquility. Syd lit hers while our Boomkin shifted out and casted his well.
I started to run low on mana. I brought everyone back up before a Divine Sacrifice was called and gambled Hymn of Hope. In hindsight, I should have Hymned during the Tranquilities (again, learn from my mistakes).
It must have felt like an eternity. I wasn't sure how much further we could go. I shot off an Inner Focused Divine Hymn in desperation on the final stretch. We had nothing else left. Heal after heal was cycled while I was inwardly praying for him to fall over. Last ditch Desperate Prayer saved me after another nasty Penetrating Cold.
Our Mage died. It looked like the raid was about to buckle, but Anub managed to fall over first before we did.
In recent weeks, we've used two groups to successfully bring down Anub that featured Holy Paladin/Resto Shaman and Disc Priest/Resto Shaman healers. I hope you've taken something away from the post and I'll see if I can do more case studies in the future.