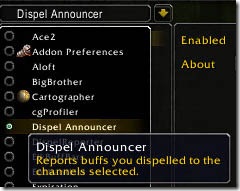 I finally found me a mod that I think will benefit all Priests regardless of their purpose or style of healing. Actually, it doesn't have anything to do with healing at all. What it does is it announces Dispels in a chat channel of your preference. It's fairly flexible in the the settings (see below screenshots). I do believe it works with Mass Dispel as it announced me taking off a Paladin's bubble and it works on offensive and defensive dispels. The Ace 2 framework is required for you to modify any settings.
More importantly,This addon has been fully tested on a Hunter dispelling enemy buffs with Arcane Shot and with a Druid dispelling poisons but it should also work perfectly when dispelling with any other skill.
Get Dispel Announcer from Curse.
It also announces when debuffs on yourself fall off such as Shouts and such.
Works in:
Say chat
Party chat
Raid warning
UI error frame
Default frame
Locations:
Outside
5-man
Raid
Battleground
Arena
Anyway, have a gander at the shots below and you'll get a rough idea.