Anub'Rekhan is the first boss of the Arachnid Quarter (Spider Wing). Most guilds entering Naxxramas for the first time will wish to go and try their luck against him initially as he's the easiest boss to get to. He's a really big Spider boss with a few tricks up his sleeve.
Anub is a two phase, repeating encounter.
Phase 1
Anub does a knock back. Your MT is going to want to position him against the far back wall with the boss facing the right (Look at my diagram).
Every so often he's going to use an ability called Impale. It's a straight line damage spell which knocks players in the air if they get hit by it. In other words, anyone in the path of an Impale will get thrown in the air.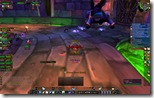 He likes to spawn a mob during this phase. Have your off tank keep an eye for one. When you kill it, it's going to spawn these mini-mobs called Corpse Scarabs. Have any AoE DPS lock them in place and burn them down before they get on the tanks and healers.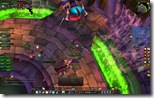 So for instance, the red arrow signifies an example Impale targeting a blue raid member. I, being the idiot Dwarf I am, is standing just ahead of him. I'm close enough that I would get struck by Impale as well. 
Impale's target the player. They're inevitable and players will get hit by them. But we want to minimize it by having them spread out in a staggered line facing Anub. Impale will hit for about 4400 on Cloth.
Really important: See the green slime? Don't stand in those. Or run into there. Don't come in contact with it. Trust me.
Example: Stop's Warlock is right behind me. Anub targets him and lights up an Impale. The two of us go flying in the air. I pop a CoH in the air to help boost our health a little and Levitate down. Stop just… lands really hard and continues DPSing.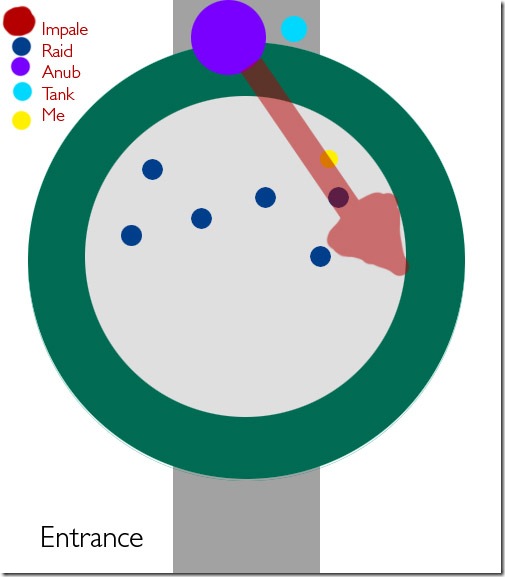 Phase 2
In this phase, your tank has to do one really important thing: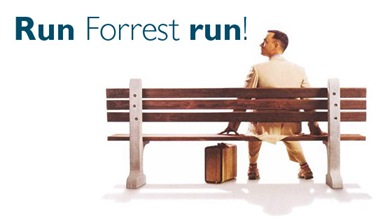 Run along the outer edge of the room in a circular fashion (Refer to the image header at the top). By outer edge, I mean run in the green slime pit but not in the actual slime. You can still run on the outer rim without getting in contact with it. Anub slows down a lot. In addition, he's going to use an ability called Locust Swarm. At this point, all casters and healers should fall back to the middle of the room. Locust Swarm will silence players and hurt a lot. It's a 30 yard radius stretching out from Anub'Rekhan that's in constant effect (like an aura almost) In this phase.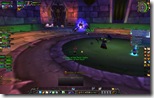 Similar to the first phase, he also summons a mob. Make sure your OT jumps on it.
Make sure your tank does not run it into the raid. It's absolutely imperative that they run along the outside. When you run to the other side of the room, Locust Swarm should expire and he'll return to phase 1 mode.
The green arrows signify the path your tank should take. Note how the scattered raid has collapsed to the center. The second time you enter phase 2, go ahead and take the reverse path back up.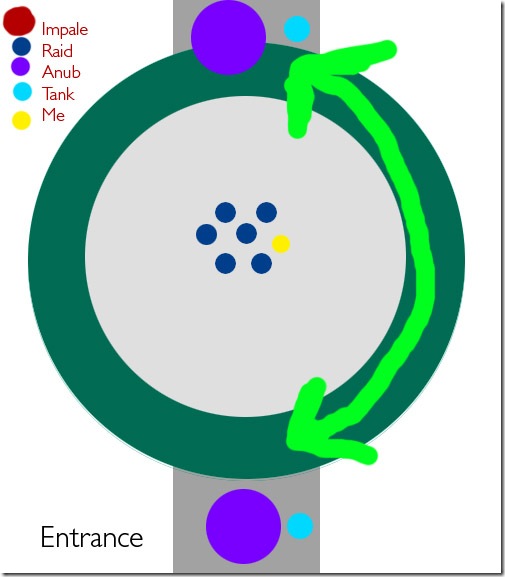 Pro tip: Are your tanks out of shape? Their armour really heavy? Having a hard time running away from the boss? If you have a Hunter, have them activate Aspect of the Pack temporarily. Death Knights should switch to Unholy Aura for increased run speed. If you have a Warrior as a tank, feel free to have a player jump across the river of goo and have your Warrior intercept into them.
Just take care you don't run too fast that Anub starts cutting across the raid.
Healing
Anub hits fairly hard. I'm going to suggest a 2 healer on MT with 1 healer on the raid and OT. Note that the raid doesn't take a lot of damage throughout the encounter as long as they spread themselves out to avoid and mitigate Impale damage. Once the impale hits, your 3rd healer should drop a few AoE spells or whatever to get them back up (I'm not telling you what spells to use. You're in Naxx now).
Like I said earlier in Phase 2, collapse to the middle. Try to load up the tanks with as much HoTs and mitigation spells or abilities as possible. If you need to sneak out and hit your tank with an emergency heal, do it even if it means risking a Locust Swarm. You should be able to max range the tank without getting affected by it. Another method is to run slightly ahead of the tank so that you still remain out of range of Locust Swarm.
Example: Assuming I'm a Discipline Priest, I would park myself on the side and heal the MT. Anna, on her Resto Shaman, would be tasked to healing the raid. Jess's Resto Druid would be unloading HoTs on the MT as wel as any melee players that are up front.
Loot
Edit: Clarified tank path during phase 2.