For other bosses in Ulduar, check the Ulduar Healing Strategy Page
Hodir is a fight that requires a lot of movement. This boss is a big cuddly snowman who likes to spread the love, and the iceblocks. This fight will keep you on your toes. 
Notes about the fight:
Lots of movement
Raid wide damage
Abilities
Biting Cold – This is an aura like affect that pulses through the entire raid. This is much like the ability from Keristrasza in the nexus, you need to keep moving to keep it from stacking up on you. Each stack increases the periodic damage it deals. 
Freeze – This deals about 5k frost damage to all players within 10 yards of the target, it also roots the targets in place.
Flash Freeze – This encases the entire raid in blocks of ice. This is prevented by standing on snowdrifts. 
Icicle – Occasionally giant blocks of ice will fall from the ceiling. These deal 12,000 damage to anyone hit and have a knock back component. You can see which areas will be hit by a small circular glyph on the ground. If you are having trouble seeing the glyphs, go into your video settings and turn on Projected Textures. Before a flash freeze, a larger glyph will show on the ground before the ice falls and will leave behind Snowdrifts which must be used to avoid flash freeze. 
Frozen Blows – Reduces Hodir's physical damage but adds a frost damage component to his attacks. This also has a raid wide frost damage effect. 
Enrage – Hodir has a 9 minute Enrage Timer 
Ability Examples: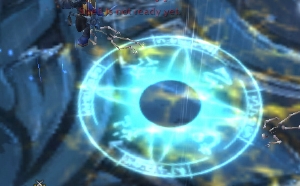 Icicle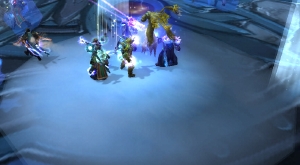 Snowdrift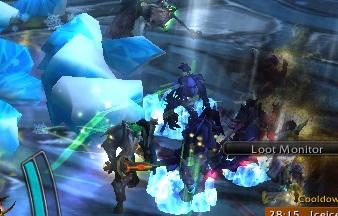 Freeze
NPCs
Hodir also comes with a selections of NPC's that must be broken out of their icy prisons. There will be four on normal and 8 on heroic. The npc's consists of the following. 
2x Druids: The druids are hard to miss, they're in boomkin form. When you break them out they DPS Hodir but also cast Starlight which increases the attack speed of anyone standing in it by 100%
2x Shaman: The shamans DPS Hodir elemental style and will occasionally cast Storm Cloud on a raid member. This ability lets you buff several raid members with Storm Power which increases their critical strike damage by 135%
2x Mages: The mages will help try to break fellow NPCs out of ice blocks and will cast a Toasty Fire. The fire is literally a camp fire on the ground, but it fights off the effects of biting cold. Falling ice and Flash Freeze will wipe out the fire. 
2x Priests: The priests will smite and occasionally throw out a heal, but most importantly they will cast Dispel Magic to free players from the effects of Freeze
Execution
Your raid will head in following the Main Tank. The tank will take Hodir back towards the rear of the room. DPS will begin by breaking out the NPCs. After all the NPCs have been broken out, DPS can start in on Hodir. When DPS first engages Hodir it is a good time to blow Heroism / Bloodlust. Healers should move into position to be near the Main Tank while everyone else needs to move into position around the raid. DPS continues on Hodir until he is about to cast Flash Freeze. Everyone needs to move to the Snowdrifts to avoid being frozen. After the Flash Freeze any raiders who were frozen should be broken free ASAP. DPS will then begin on the NPCs again until all are free, and then will resume DPS on Hodir. Rinse and repeat until the big guy is done. 
Healing Hodir
Healing Hodir has two major components, 
Main Tank – Three healers should be assigned to the main tank. They should be in close proximity at all times and moving with the tank as needed. Grace from a Disc Priest helps even out the damage from Hodir. 
Raid – The rest of the healers should be spread out along the outside of the raid to cover as many raiders as possible. 
All healers will be moving quite a bit during this fight, dodging falling ice and shaking off the effect of bitting cold until the NPC's are broken loose. Shamans will be using a lot of Riptide and Lesser Healing Wave, Druids will be right at home rolling HoTs, Paladins will be using quick Flash Heals, as well as priests utilizing renews and quick heals. It is possible to toss out a longer cast heal such as Greater Heal or Chain Heal and move before biting cold stacks, as long as you can find yourself a rhythm for move and cast. Your main goal as healers should be to find a Toasty Fire close enough to the raid to sit on. If you have the Toasty Fire buff, you can spam heals without worry of stacking Biting Cold. Since the rest of the raid will be moving around though, be prepared to move to keep people in range. Once you learn to balance the movement and the heals the fight is pretty straight forward.
Until next time, Happy Healing.