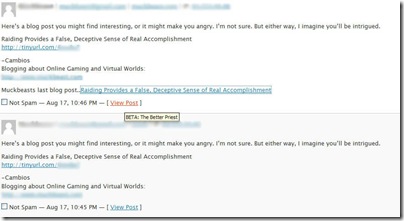 This comment is what prompted the comment policy I posted earlier. Allow me to illustrate the transgressions (Note: Click image to enlarge).
This is a screenshot from my dashboard showing the same comment posted in two different places. The title is a great way for a reader to know what they are getting into. In this case, the writer makes a case against raiding and wishes to publicize the post and attract feedback as well as traffic.
Unfortunately, a quick mouseover on which posts he comments on reveals that he pasted this on a short piece I did when I was dueling Wyn.
What on earth does a post on raiding have to do with a duel I had with Wyn?
Absolutely nothing!
Another point I want to address is the use of URL masking. Don't get me wrong now, I love the service that TinyURL provides. Twitter followers will notice that I use them extensively when I tweet. However, this is mainly due to the 140 character restriction that Twitter has in place.
It's not necessary to do that in a comment. Having a full length URL offers interested readers to at least know what they're clicking on. For all we know, the masked link could lead to a merchant site or worse: A keylogging website.
On a completely different note, Blog Azeroth is a fairly tight knit community. So allow me to offer a word of advice for new bloggers. If you're trying to break into the community, it's generally a smart idea not to piss off bloggers on a grand scale. I've been told off the record that a significant number of bloggers have flagged the user's comments above as spam. Some have even taken measures to block the IP address. I personally don't care about sending this guy traffic. There's no direct link here and only a few would even Google the clues I left open in the image. I have a feeling that most readers would go there once and then never return. The cost of traffic is outweighed by the hope that I can educate our younger bloggers on the proper practice of commenting and social interaction.
Although I wrote briefly before about the importance of reputation in WoW, that pales in comparison when you're a blogger trying to establish yourself. Your reputation is dependant on the image you paint of yourself via comments and contents. Do not underestimate the social responsibilities that blogging brings. If you fail to recognize and respect this aspect of blogging, expect to crash and burn.