Yeah there's going to be a buttload of spoilers here. You probably don't want to read any further than this.
Tuesday afternoon, Blizzard announced the new PTR boss testing schedules for the week. Flame Leviathan (Normal) would be open from 4 PM onwards. But it looks like someone was trigger happy and they decided to pop it open an hour earlier. I happened to be on right as it opened up and sounded the alarm on Twitter, my guild, and in the WoW Insider war room. Alex Ziebert, shadow Priest extraordinaire, was able to join me. Once we filled up, we got the ball rolling.
So what kind of vehicle does a big, badass Dwarf drive around when he's feeling bloodthirsty?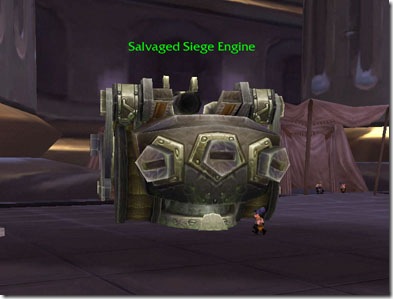 That's right. It's the only vehicle fit for a dwarf. It's big. It's got rams. And it's got guns. I let someone else drive while I manned the guns on top. After talking to Bronzebeard, we started the event and the Alliance 1st Armored division rolled out of the garage. The division consisted of two tanks, two demolishers and two choppers (bikes). The two siege engines lead the way absorbing the brunt of the Iron army. Demo's formed up on the rear and attacked at range while choppers were cleaning up anything else that got behind the siege engines.
1st Armored decided to start off with gunnery training. Most of us had no idea what to do so it made sense to start firing on anything that moved and any structures that were destructible. We literally rolled over the opposition with little difficulty.
Click on pictures to enlarge
I found the gun controls were quite stiff to move. It's like the engineers forgot to add WD-40 to the damn turrets or something. If you've ever done Wintergrasp, the controls for aiming are quite easy. You hold down your right mouse button to aim the direction of the camera and the targeting reticle changes direction accordingly. But it's different in Ulduar. I found that it wasn't as fluid nor as smooth.
After clearing out the towers, one of the recon choppers noted what looked like a repair pad on the side. We gathered up and repaired our vehicles to full health. Up ahead there was a gate flanked by two Ulduar Colossi.
Up: Repair pad
Down: Ulduar Colossus
The Colossus is pretty damn large. But the larger they are, the harder they fall. They more really slow, too. I told my driver to switch with me because I had a hunch the vehicle would have a larger vehicle pool. Blizzard did say vehicles would scale with gear. Sure enough, my tank jumped from ~750k health to ~810k.
Matticus was in the hot seat now.
Left: Matt tries to take on the Flame Leviathan to no avail
Right: Matt flooring it after realizing the above the strategy is not working
"Matt! Run! Hit the gas!"
"WTF do you think I'm doing?! Twiddling my thumbs?!"
We didn't last much longer after that. But I found it a lot of fun. And it is absolutely nothing like Malygos phase 3. Players who have an aversion to vehicle encounters should definitely give this a try at least. And if they hate it, they'll hate it. But at least try it with a clean slate. Worse comes to worse, if you don't like driving or shooting, you can be one of the brave souls willing to be thrown on to the top of the Flame Leviathan.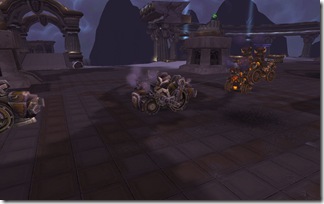 Pretty neat bug where a demo has grappled another demo. There's still some quirks to be resolved. Towards the end, Alex grappled me onto his demo. I was unfortunately stuck and had no idea how to eject myself. I don't think I was loaded into the launching arm.
Our best attempt was around 35% before our live raids forced us to cancel out.
Ignis is going to be available for testing today. Try to be on about an hour earlier to avoid the queues that is going to be prevalent. I'll be in there at around 3 to see if I can scramble some players.
For Flame Leviathan strategy, try checking out Stratfu.