If you haven't checked it out yet, WoW Insider has started releasing a series of weekly Google Hangout videos. On the WoW Hangout, it's a group of us WoW Insider folks talking about different topics on a week to week basis. This week, we talked about Flex raids.
One of the questions posed was "Do you think it's going to be mandatory for players to run three sets of raids? Isn't that extreme?" I wanted to expand on my answers.
It all comes down to what you want out of this game. Over the years, there's been this mad rush to get your character as geared out as possible so that you can do all the harder and fun stuff. Flex adds a third potential raiding lockout that you and your raid group can take advantage of. I feel that a small percentage of people will actually do this and try to blitz through all three lockouts. However, we need to remember that Raid Finder and Flex will be gated on release day. I remember reading somewhere that Flex will be on a slightly faster timetable (Can't source it, so I may be incorrect).
It's not something you can simply queue into either like you would for Raid Finder.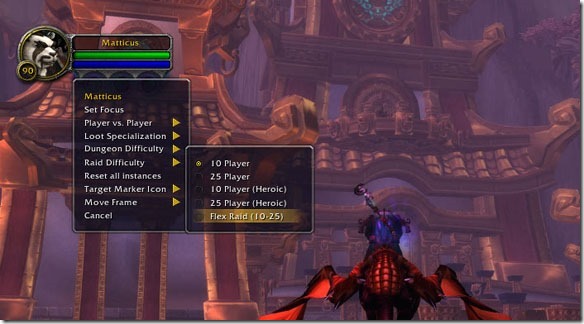 If you actually do choose to run three raids a week, you should be able to get the armor and gear you need for your character quickly. That's three sets of "loot pools" to choose from. Eventually, you'll reach an equilibrium where there's no longer a purpose to running the Raid Finder. You'll be bouncing between Flex and Normal. After that, you'll (at minimum) have items that are at least equal to the Flex level of drops. Won't need to run that anymore, either. Your time should then be freed up to running just the Normal a week.
At least, that's under the generous assumption that the loot Gods are kind to you. Did you remember to make your monthly Murloc sacrifice to appease them?
I really think that once all of the raid lockouts are available, players in raid groups that are ahead of the curve won't be running all three week. Don't kill yourself running this.
Plus summer's here!
As for me, once Matticus is done being all geared out, I won't be bringing him into those side raids anymore. If anything, I'll activate Saphfira (Elemental Shaman) and Denesia (Frost Mage). That'll keep giving me a reason to run Flex raids on our off nights of raiding (Wednesday nights). It's completely optional and it's the perfect environment for players with alts or working on offspecs to get some practice in case we need to call upon them on the main raid. Until Flex comes out, my guild and friends are content with running parts 3 and 4 of ToT. Part 2 simply takes too long because there's so much trash and snails. I'm not inclined to run part 1, either.
Some of our retired raiders have even expressed some interest in coming back just for that. It's a lower stress environment and they know that the group we have has the capability to smash through it.
I've seen the projected map for the new Siege of Orgrimmar raid. It's expected to contain 13 bosses. My worry is that we may not be able to get through all of that in a single night. If that happens, we're going to need to split the run into a week 1 and week 2 deal where we can knock out as much as possible in the first day before coming back next week and cleaning up.
Here's another blue post with more details about how the lockout will work.
"Will the lockout be similar to LFR where you can run it again (with only 1 chance per week for loot) or will it be like normal, where you can only kill a boss once per week?"

Right now, the idea is to have FR lockouts work very similarly to lockouts in LFR.
You will be able to repeat bosses, and that will actually still be somewhat rewarding, you'll be able to use additional bonus rolls, earn Valor Points, and potentially loot some shinnies from trash…

There's something unique about FRs though, I'll explain it with an example:
Let's say you join a 12man and kill the first boss, leave the raid, and join a 20man, you might have to repeat the first boss.

"Might", so how does that work?
If everyone in the new 20man raid has already killed the first boss just like you did, then that boss will not spawn.
But even if only 1 of the players in that 20man has not killed the first boss, he will spawn again and everyone else will have to repeat the encounter.
Yikes! Maybe the whole week 1/week 2 raiding thing won't work as well as I thought! That's assuming we bring in a new player the next week. Being able to farm the same bosses repeatedly for valor points? Hrm!
Are you thinking about running all three lockouts or are you content with just one or two? What plans do you have about your alts (if any)?
bupropion no prescription
http://cialisnextdaydeliveryusa.com
http://noprescriptionrxbuyonline.com/viagra_soft_tabs.html