I have returned from PAX Prime! It was a blast meeting some of my old (and new) guild mates again, especially since Blizzcon isn't being held this year (but with Blizzcon 2013, you bet we'll be making plans for that again).
Highlights?
Marvel Heroes is a blast. If you like the gameplay of Diablo and Torchlight, you're going to like Marvel Heroes (Actually, I believe it's made by the creator of the Diablo series).
Meeting my previous editor-in-chief for the World of Warcraft magazine, Dan Amrich, in person. Sat in on a panel by him on How to Review Video Games. He really does look like Mal Reynolds.
"There's an inverse relationship between doing what you love and getting the big bucks."

– Dan Amrich
I tracked down and met up with some of the Blizzard CMs and we had a nice discussion about the game and the upcoming expansion. After that, a CM who will remain nameless and I attempted to Gangnam Style at the booth. We were able to get the "Horseback ride" and the "Lasso" part of the routine. However, the "sideways shuffle" continued to elude us.
What's that? Video footage of Gangnam Style attempts? I believe it may have been seized at the Canadian border. Oh well.
Heart of Fear
Over the weekend, I caught wind that the raid finder options of Heart of Fear opened up and Mogu'shan Vaults had been disabled. New instance, new bosses, right? Decided to queue in and give it a go.
The first boss that stood in front of us was Wind Lord Mel'jerak. He's quite the royal pain actually. Your group will be squaring off against an encounter with multiple adds that absolutely must be controlled. In the raid finder, there's about 9 of those things. If more than 4 gets crowd controlled, the Wind Lord just removes all the debuffs. There's a finite amount of bugs that need to be active or else things can snowball to NOPE mode in a few scant seconds.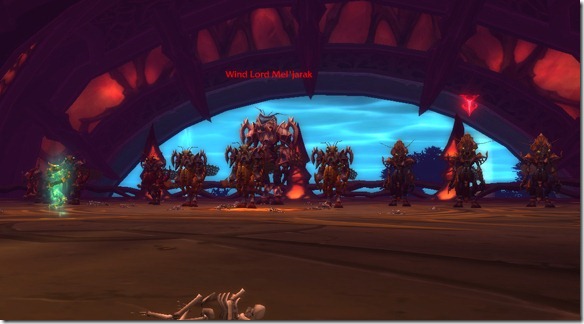 But that's not the main issue. The big thing I've found is that tanks are just going through our group like a revolving door. We'd get a pull in, but then we wipe because someone broke CC due to AoE or the tank mistakenly pulls the boss near a cc'd mob. Mob breaks, we wipe, and then the tank gets a  vote kick which automatically passes because hive mentality.
Poor tanks only get one shot on LFR. Their skills and performance are based on one boss. They don't even get to really learn stuff. Personally, I don't think that's fair.
Now my take on it is that there's a big difference between queuing for LFR on beta realms against bosses meant for testing versus queuing in the raid finder against bosses where their heroic versions have been on farm for half a year (Dragon Soul, for instance).
I mean if you're tanking raid finder for Dragon Soul and you're wiping to basic simple stuff that's fault months after the place is already open, I can understand the reasoning.
But a new boss that's still being tuned where the mechanics and encounter notes aren't widely known yet?
What the hell. Can we have a little more patience patience in there?
Ideal raid linear progression would be wiping at 90%, then 60%, then 20%, then death (or just one shotting it, but that means it's probably too easy).
Anyway, the fact that we cycled through 7 different tanks is a good indicator that either some mechanics need to be changed or the raid finder version of this boss needs another pass. Something kept resetting the encounter. Didn't get a good look as I was occupied at my frames, but it looks like that happens when the boss crosses a certain line.
Maybe I'll try queueing for the second half instead.