I'm going to let you guys in on a secret.
I'm not the best Priest in the world.
I've failed the ledge boss. I've died to the frogger boss. In fact, last Monday I got nailed by two back to back fire walls. The harshest critic anyone can have is themselves. The exasperation I could hear from my guildies that were not being transmitted over vent was nothing compared to the pissedoffedness I was feeling at myself.
More importantly, I am not the best geared Priest out there. I get a lot of observations about this from colleagues and readers.
"Why haven't you gotten this item yet?"
"Why are you using this instead of that?"
"Have you thought about using that instead of what you have?"
It's ironic isn't it? Here I am with a blog where the mission statement is to make readers better players in every aspect possible with whatever advice and experience I can hand out. Yet getting the current best items in the game isn't that big of a priority for me.
Because I've reached the threshold.
The Perfectionist
This is the player who sticks by enchanting and jewelcrafting to maximize their stats as much as possible. In fact, there are guilds who ask all of their guild members to exclusively use these two professions. I've noticed that these are the players who juggle a wide variety of variables in their head. An example would be a Paladin who would ask themselves if they want to pick up this helm for an MP5 set or a different helm for a crit set. This type of player isn't satisfied with just being good enough. They will never be satisfied until they can excel in every area under their role. I've got tanks that have threat sets, stamina sets, and damage mitigation sets.
Same concept.
The Slacker
Not quite as worried about their loot. However, they do need to hit a threshold level of gear to be effective. The slackers are generally the healers. At the current level of raiding, there's a point where your Spirit, your MP5, your spellpower and all those stats become useless. 1250 MP5 will be the same as 1245 MP5. 2500 spellpower is the same as 2490 spellpower. Once I hit the 220 spellpower mark, I started dishing out the passes to other healers who needed to augment themselves more.
There is nothing wrong with either of the two mindsets. I'd even go as far to say that a healthy guild will benefit by having both kinds because the perfectionist will never be satisfied and the slacker won't raise hell because they've reached the threshold.
This reminds me of a discussion I have with my dad. We both like our dim sum. Specifically, we both like our ha gao. He refuses to eat at a cheaper Chinese restaurant if there's something better nearby. There's a decent Chinese restaurant on 1st (for the Vancouver guys, there's a plaza there. It's on the 2nd floor opposite the T&T). And it's pretty good. It's crazy packed. Huge wait list. But I'm happy with the food I get. So's my aunt because she ends up paying 2 bucks a dish instead of 4 bucks a dish. My dad prefers the slightly more expensive Chinese places which offer the 4 dollar ha gao.
After sampling both, I say to my dad, "Dad, there's virtually no difference between 2 dollar ha gao and 4 dollar ha gao. They taste the same."
"No, it tastes better."
"It's the same amount of MSG and the shrimp comes from the same ocean."
"Yeah, but it still tastes better."
As you can see, some people just have to have the best stuff. Others are okay with the second best.
Ugh, and it's 1:30 AM and I just made myself hungry. And just so I'm not the only one, I'm taking the rest of you down with me. If I'm hungry, I'm making the rest of you hungry!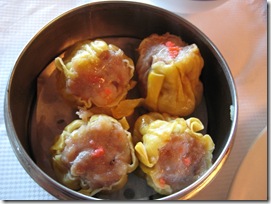 This is called Siu Mai (My spelling's off, I know)
This is called ha jeong (Shrimp wrapped in flat rice noodles)