Who are all these unsavory characters, you might ask? Well, all WoW players–particularly raiders–have a closet full of skeletons, or, to be more specific, absolutely terrible alts. These just happen to be mine, and not a one of them is as good as my main. There are the few exceptional players who play their holy priest as well as their frost mage, but those are few and far between. For the most of us, we have one character to raid with, whose mechanics we know inside and out, and a motley crew of has-beens, might-have-beens, and never-will-bes to tool around with outside of raid time. Usually, alts are harmless, though my paladin's mailbox macarenas HAVE been known to cause temporary insanity. However, especially when burnout or boredom threatens, alts start to look pretty attractive. I've just taken Isidora the Fail Warlock on a little tour of Borean Tundra. Sure, level 68 mages can kill me one-on-one because I can't find my fear button. But I can pick Goldclover!
This post explores what happens when raiders get attached to their alts. The fascination can go far beyond leveling a convenient profession or two. It is a truth universally acknowledged that when a guild starts spending a significant amount of time every week on farm content, at least one raider will want to bring in an alt.
Change is Good, Right?
From the perspective of the player, a change of main, or even a few trips to a dungeon on an alt, can help refresh interest in the game. On rare occasions, this can work out well for the guild as well. Sometimes a player is even more successful at raiding on a rerolled character than they were on their original main. I saw this happen in Collateral Damage with Allagash, a wonderful shaman who rerolled from priest in mid-T5 when she saw the potential of the shaman class. Those kinds of Cinderella stories can happen, but what I'm really interested in talking about are the rotten pumpkins that can result from an excessive love of alts.
Speaking Hypothetically
What if I were to decide tomorrow that Sydera has plenty of gear and experience, and that I'd like to start raiding on one of my alts? Maybe, since my guild has only one raiding shaman, I'll powerlevel Zoraida (now at a stout level 7) and work my butt off to help my guild stack Chain Heal. Or, I'll decide that even though I've become pretty decent at healing, it's my destiny to hit things in the ankle with an axe. So, I'll level my retribution paladin from 70 to 80 and add myself to an already bloated melee team. But I'm a good player, right, so my guild will work me in just to keep me. In either case, I'd ding 80 in little more than my underwear (yes, those are healing boots on the ret pally) and I'd want some runthroughs of heroics and Naxx 10 to get up to the minimum standard for raid gear. I'm sure, though, that the whole project would be engaging. Some players seek out just such a long slog so that they have enough in-game struggles to hold their interest. However, at the end of the line, when a new alt is at level 80 and in a basic raid kit, has it been worth the sacrifice?
Giving your Guild Leader a Giant Headache
Nothing causes Guild and Raid Leaders to lose more sleep than the prospect of changing the raid lineup. Anyone who makes a raid roster wants to be able to count on a consistent team, and alts ad chaos to the mixture. Most guilds don't min/max every situation, so they will do what they can to keep a player they like, even if it means letting a healer come to raids on a ret paladin. However, that player has probably cost their guild a good bit of time and effort for a very uncertain return. Often, the end result is that the new main contributes less to the raid than the old one did.
Didn't Ghostcrawler tell us to Take the Player, Not the Class?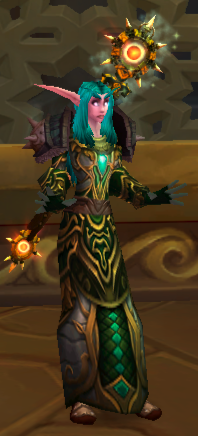 Yes, he sure did. However, when we're talking about a rerolled character or an alt, there are a lot of reasons for guild leaders to say no. For example, let's take Sydera. She's been all the way through TBC and the current Wrath content, and somewhere along the way, her operator learned a thing or two about healing on a druid. When I take my warlock out for questing, I'm less quick to react than I am on Syd. It's like playing a stranger. I might be able to learn another healer, but I don't think I'd ever post great numbers as a raiding warlock. For high-end raiding, the absolute optimum scenario is for everyone to play one class of their choice and to build the team based on those choices. Changing things up mid-stream is uncomfortable both for the leadership and for other players.
But What if My Main is Already Geared?
In my mind, this is the worst reason to bring an alt to a raid, unless it's a raid specifically designated for alts. In guilds with DKP lists, alts can sometimes bid on loot, often sharing a DKP pool with the main. Let's imagine that a well-established guild has many long-time members with lots of DKP and a few new members with very little. One of these new members loses an item for their main spec to someone's alt. How are they going to feel? And what will the effect on team morale be? This can be a hard lesson, because we all love our alts and get bored of farm content, but a guild has to think about the good of the whole. As painful as it might be, and as much as I'd like to go to Naxx someday on my alts, it's best to keep alts out of raiding entirely. The exception, as I said, are raids designed to carry alts. If the guild is revisiting old content for giggles, then why not let everyone take their alts? But if the raid's purpose is to gear up the players for the next level, you're much better off with a full group of mains, even if some loot gets sharded as a consequence.
What if I Want to Switch Mains?
Sometimes a change in mains is the only thing that will make a player happy. In my mind, players should seek their bliss–but they should so so while being aware of other people's needs. I can imagine two possible scenarios that allow a player to switch and keep his or her integrity intact.
1. The player who wants to switch is able to do so in a way that supports the guild.
If one of Conquest's four resto druids really, truly wanted to switch to another healing class, and was willing to let that class be paladin or shaman, I would support them. Sure, I'd be skeptical until the alt in question reached 80, but I would be willing to do a little extra personal work to support the new character. However, once the person switched, I'd hold them to it. There would be no going back to the former main once the new main had an acceptable gear set. That essentially causes the guild to have to re-make its plans twice. I've been burned in the past by asking people to switch to an alt either temporarily or permanently in order to ensure better class balance for a raid. I'll never do that again–and I'll keep people from switching themselves to a character they don't really like if at all possible. I'd only support a change of main if it was permanent and favorable for both the individual and the team.
2. The player switches mains and respectfully leaves for a guild that needs a player in that role.
One of the hard lessons I've learned this year is that sometimes you have to say goodbye to your guild–for the good of both that guild and the raider involved. I believe in everyone's right to find happiness, and if that sense of in-game satisfaction is only available with a new class and role that your current raiding group doesn't need, well, it makes sense to say good luck and goodbye. There are respectful ways to g-quit. It's better, in fact, to quit if staying would mean that the guild has to radically change itself in order to accommodate you. My earlier example of healer-to-melee would probably require a wholesale shakeup of Conquest to accomplish. So, have a heart-to-heart with the Guild Master or Raid Leader. Find out if your new main will be able to contribute something useful to your raiding team. If not, give a notice of a couple weeks if you can and then start looking for a new home.
Would I Ever Switch Mains?
Probably not. I'm rather attached to Syd, and I've found something I'm good at. Alts are nice for dreaming. I like to imagine what it would be like to Chain Heal with Zoraida in a 10-man, though I'm not likely to get there. I might someday pug a Naxx 10, or go on an all-alt run of old content. That sort of thing is fun. However, when it comes to progression raiding, I might daydream sometimes about switching, but then my better angel kicks in and tells me to get back to lifeblooming. Another question entirely is whether I'd reroll if Matticus asked me to. Yes, I would, because if the guild leader asks, that means it's best for the team–but he's not likely to do that. After all, I'm an incredibly slow leveler, and the guild would have to wait a long long time for their new team member.